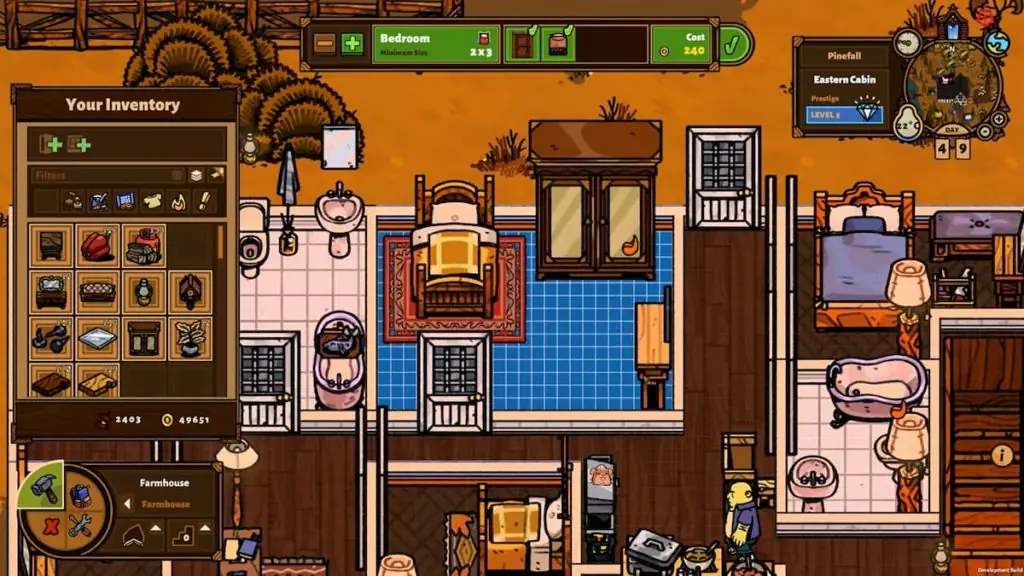 Bear and Breakfast is an unbearievably adorable game available on PC and coming soon to Nintendo Switch! Bear and Breakfast features some of the most charming gameplay ever seen in management simulator games, and has heaps of unexpectedly complex adventures in store! If you want a relaxing game to unwind to after a stressful week, this game is definitely for you. This game proves that there's an entrepreneur in all of us that wants to create the greatest bed and breakfast the world has ever seen! The key to any successful bed and breakfast is, of course, the beds. People love being able to sleep and you can make that happen with Bedroom Beds in Bear and Breakfast! If you'd like to know how to craft these essential bedroom pieces, you're in luck! This is a comprehensive guide on how to craft a Bedroom Bed in Bear and Breakfast.
Bedroom Beds are the first beds you're able to craft in Bear and Breakfast, which makes obtaining them all the more beneficial. To create a successful bed and breakfast, you definitely need beds! Thankfully, these beds are very easy and cheap to craft. To craft your very own Bedroom Beds, follow these simple steps:
Open Bear and Breakfast on your PC or Nintendo Switch.
Make your way over to the crafting table on the side of the Eastern Cabin, and open it up by clicking on it.
Once you're inside the crafting table, you should see a column titled "Recipes" on the right-hand side of the table. In this column should be the recipe for Bedroom Beds; click on this recipe to open it.

Most items will need a blueprint before you can craft them, but thankfully, you don't need one to craft these basic beds.

Clicking on it should bring the recipe to the main part of the table. All you need to craft a single bed is one Plank (Plywood) and one Sheet (Cotton). Once the required materials have been selected, click on the "Craft" button at the bottom of the table.

You should have an abundance of these common materials from salvaging resources from the ruined buildings. If you don't have enough materials, for whatever reason, you can always exit the crafting table and collect more from the surrounding area.

Congratulations, you just crafted a Bedroom Bed in Bear and Breakfast! It should automatically be added to your inventory, so don't worry if you don't immediately see it.
When Can You Begin Crafting in Bear and Breakfast?
You're able to start crafting right after you finish all of Barbara's beginning tasks (cleaning the Eastern Cabin, salvaging building materials, collecting stone bricks, etc.). After you finish all her tasks, Barbara will lead you to the cabin to begin working on it for real. After Barbara finishes fully fixing up the Eastern Cabin, she will install a crafting table for you before she leaves. Once the crafting table is installed, you will be able to craft anything you want for your B&B! This is the earliest point in the game where you will be able to craft items (including the Bedroom Beds).
Related: Where to Find Took the Raccoon in Bear and Breakfast.
Bear and Breakfast is great for adventure gamers and idle gamers alike! You're able to pace your playthrough as fast or slow as you like, and there's never any pressure to complete dangerous quests if you're not ready. This game is also great for those with creative and imaginative souls; you can craft just about anything in this game! You can craft much more than just the bear necessities; Bear and Breakfast has numerous other creative crafting recipes available to players! If you ever find yourself stuck in this game, be sure to check out Gamer Journalist's other guides for Bear and Breakfast.