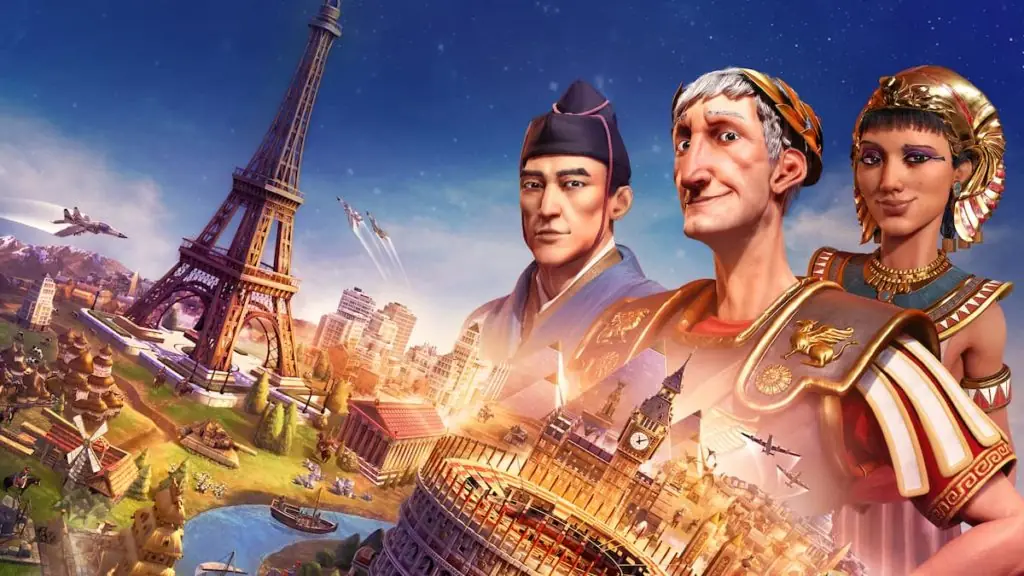 Civilization 6 is a turn-based strategy 4X game in which players get to build up their very own civilization and battle with other players with the goal of one day conquering the entire world. However, not every leader is capable of ruling as effectively as others. Which is why we've compiled a list of some of the best rulers in the game, and ranked them individually.
This guide features a Civilization 6 tier list that ranks some of the most dominant rulers in the game.
The leader you choose is incredibly important because it can dictate how the game will play out. How a country manages its technology, military resources and develops its culture all while maintaining a ruling government will be deciding factors contributing to your overall success in the game.
Without further ado, here's our Civilization 6 tier list ranking the leaders in the game from best to worst.
Tier S Leaders
Hojo Tokimune (Japan)

Ability: Meiji Restoration
Bonus: Divine Wind
Structure: Electronics Factory
Unit: Samurai

Joao III (Portugal)

Ability: Casa da India
Bonus: Porta do Cerco
Structure: Navigation School
Unit: Nau

John Curtin (Australia)

Ability: Land Down Under
Bonus: Citadel of Civilization
Structure: Outback Station
Unit: Digger

Peter (Russia)

Ability: Mother Russia
Bonus: The Grand Embassy
Structure: Lavra
Unit: Cossack
Tier A Leaders
Bull Moose Teddy (America)

Ability: Founding Fathers
Bonus: Antiquities and Parks
Structure: Film Studio
Unit: P-51 Mustang

Cleopatra (Egypt)

Ability: Iteru
Bonus: Mediterranean's Bride
Structure: Sphinx
Unit: Maryannu ChariotArcher

Cyrus (Persia)

Ability: Satrapies
Bonus: Fall of Babylon
Structure: Pairidaeza
Unit: Immortal

Gorgo (Greece)

Ability: Plato's Republic
Bonus: Thermopylae
Structure: Hoplite
Unit: Acropolis

Kupe (Maori)

Bonus: Mana
Structure: Marae
Unit: Toa

Pedro II (Brazil)

Ability: Amazon
Bonus: Magnanimous
Structure: Minas Geraes
Unit: Street Carnival Copacal

Rough Rider Teddy (America)

Ability: Founding Fathers
Bonus: Roosevelt Corollary
Structure: Film Studio
Unit: Rough Rider

Saladin (Arabia)

Ability: The Last Prophet
Bonus: Righteousness of the Faith
Structure: Mamluk
Unit: Madrasa
Tier B Leaders
Gilgamesh (Sumeria)

Ability: Epic Quest
Bonus: Adventures of Enkidu
Structure: Ziggurat
Unit: War-Cart

Hammurabi (Babylon)

Ability: Enuma Anu Enlil
Bonus: Ninu Ilu Sirum
Structure: Palgum
Unit: Sabum Kibittum

Lady Six Sky (Maya)

Ability: Mayab
Bonus: Ix Mutal Ajaw
Structure: Observatory
Unit: Hul'che

Mansa Musa (Mali)

Ability: Songs of the Jeli
Bonus: Sahel Merchants
Structure: Suguba
Unit: Mandekalu Cavalry

Matthias Corvinus (Hungary)

Ability: Pearl of the Danube
Bonus: Raven King
Structure: Thermal Bath
Unit: Huszar

Pericles (Greece)

Ability: Plato's Republic
Bonus: Surrounded by Glory
Structure: Acropolis
Unit: Hoplite

Phillip II (Spain)

Ability: Treasure Fleet
Bonus: Es Escorial
Structure: Mission
Unit: Conquistador

Qin Shi Huang (China)

Ability: Dynastis Cycle
Bonus: The First Emperor
Structure: Great Wall
Unit: Crouching Tiger

Seondeok (Korea)

Ability: Three Kingdoms
Bonus: Hwarang
Structure: Seowon
Unit: Hwacha

Simon Bolivar (Gran Columbia)

Ability: Ejercito Patriota
Bonus: Campana Admirable
Structure: Hacienda
Unit: Lianero
Related: Warzone Weapons Tier List (July 2022)
Tier C Leaders
Dido (Phoenicia)

Ability: Mediterranean Colonies
Bonus: Founder of Carthage
Structure: Cotho
Unit: Bireme

Jadwiga (Poland)

Ability: Golden Liberty
Bonus: Lithuanian Union
Structure: Winged Hussar
Unit: Sukienn

Jayavarman VII (Khmer)

Ability: Grand Barays
Bonus: Monasteries of the King
Structure: Prasat
Unit: Domrey

Menelik II (Ethiopia)

Ability: Aksumite Legacy
Bonus: Council of Ministers
Structure: Rock-Hewn Church
Unit: Oromo Cavalry

Montezuma (Aztec)

Ability: Legend of the Five Suns
Bonus: Gifts for the Tlatoani
Structure: Tlachtli
Unit: Eagle Warrior

Pachacuti (Inca)

Ability: Mit'a
Bonus: Qhapaq Nan
Structure: Terrace Farm
Unit: Warak'aq

Taman (Georgia)

Ability: Strength in Unity
Bonus: Glory of the World, Kingdom of Faith
Structure: Tsikhe
Unit: Khevsur

Wilhelmina (Dutch)

Ability: Grote Rivieren
Bonus: Radio Oranje
Structure: Polder
Unit: De Zeven Provincien
Tier D Leaders
Amanitore (Nubia)

Ability: Ta-Seti
Bonus: Kandake of Meroe
Structure: Kandake of Meroe
Unit: Pitati Archer

Ba Trieu (Vietnam)

Ability: Nine Dragon River Delta
Bonus: Drive Out the Aggressors
Structure: Thanh
Unit: Voi Chien

Basil II (Byzantium)

Ability: Taxis
Bonus: Porphyrogennetos
Structure: Hippodrome
Unit: Tagma

Catherine de Medici (France)

Ability: Grand Tour
Bonus: Catherine's Flying Squadron
Structure: Chateau
Unit: Garden Imperiale

Frederick Barbarossa (Germany)

Ability: Free Imperial Cities
Bonus: Holy Roman Emperor
Structure: Hansa
Unit: U-Boat

Suleiman (Ottoman)

Ability: Great Turkish Bombard
Bonus: Grand Vizier
Structure: Grand Vizier
Unit: Barbary Corsair

Trajan (Rome)

Ability: All Roads Lead to Rome
Bonus: Trajan's Column
Structure: Trajan's Column
Unit: Legion

Wilfrid Laurier (Canada)

Ability: Four Faces of Peace
Bonus: The Last Best West
Structure: The Last Best West
Unit: Mountie
Tier E Leaders
Alexander the Great (Macedonia)

Ability: Hellenistic Fusion
Bonus: To the World's End
Structure: Basilikoi Paides
Unit: Hypaspist

Eleanor of Aquitaine (England)

Ability: Workshop of the World
Bonus: Court of Love
Structure: Royal Navy Dockyard
Unit: Sea Dog

Genghis Khan (Mongolia)

Ability: Ortoo
Bonus: Mongol Horde
Structure: Mongol Horde
Unit: Keshig

Gitarja (Indonesia)

Ability: Great Nusantara
Bonus: Exalted Goddess of the Three Worlds
Structure: Kampung
Unit: Jong

Kristina (Sweden)

Ability: Nobel Prize
Bonus: Minerva of the North
Structure: Open-Air Museum
Unit: Carolean

Lautaro (Mapuche)

Ability: Toqui
Bonus: Swift Hawk
Structure: Chemamull
Unit: Mallon Raider

Magnificence Catherine (France)

Ability: Grand Tour
Bonus: Catherine's Magnificences
Structure: Chateau
Unit: Garde Imperiale

Shaka (Zulu)

Ability: Isibongo
Bonus: Amabutho

Structure: Ikanda
Unit: Impi
Tier F Leaders
Ambiorix (Gaul)

Ability: Hallstatt Culture
Bonus: King of the Eburones
Structure: Oppidum
Unit: Gaesatae

Kublai Khan (Mongolia)

Ability: Ortoo
Bonus: Gerege
Structure: Ordu
Unit: Keshig

Mvemba a Nzinga (Kongo)

Ability: Nkisi
Bonus: Religious Convert
Structure: Mbanza
Unit: Ngao Mbeba

Tomyris (Scythia)

Ability: People of the Steppe
Bonus: Killer of Cyrus
Structure: Kurgan
Unit: Saka Horse Archer

Victoria (England)

Ability: British Museum/Workshop of the World
Bonus: Pax Britannica
Structure: Royal Navy Dockyard
Unit: Sea Dog
That concludes our Civilization 6 tier list ranking some of the best leaders in the game. Before you go, don't forget to check out some of our other Civilization 6 content here at Gamer Journalist. Like how to increase amenities or how to increase housing in Civilization 6.