Get the fruits of your labors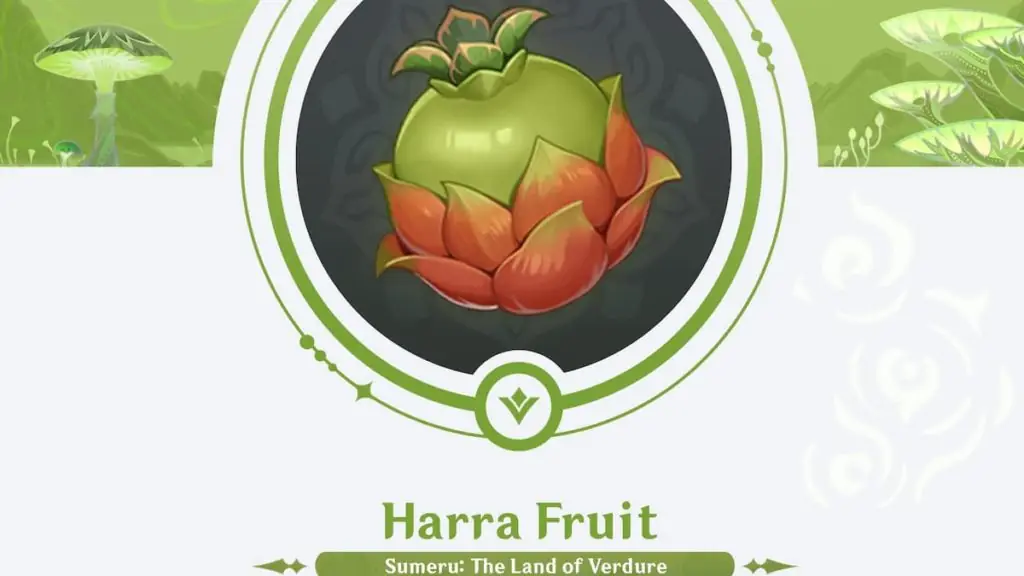 The latest 3.0 version update for Genshin Impact has arrived. This of course means lots of new items for you to use in a variety of ways. One of the more sought-out items at the moment is the spicy and colorful Harra Fruit. Here's a quick rundown of what the Harra Fruit is and where to find it.
What to Use Harra Fruit for
The Harra Fruit is a spicy fruit that you can use in cooking and making new recipes. It is exclusive to the new Sumeru region recently unlocked in the 3.0 update. It is considered the most valuable fruit in the region as well so there's a chance once you farm enough of it you can sell it for a good price. There are also rumors of it being an early-on quest item in the latest August 24th update. So that leads to the question, where and how do you get it?
Where to find Harra Fruit
As stated already, it is an exclusively found fruit in the Sumeru region. So far you can only really find it in the wild. Some early maps revealed by players and the Genshin community seem to point to the higher the mountain peak the more fruit will be found. There are also more abundant clusters at the most north of the map as well as the southeastern section of the region.
You will also be able to cultivate Harra Fruit seeds. Using your seed dispensary on a Harra Fruit will give you a Harra Fruit seed which you can then plant for more Harra Fruit down the line. There is always a chance with more new updates there will be easier and faster ways to obtain the fruit. Until then, you'll just have to explore and keep an eye out for the bushes containing this new and exciting item.
Related: How to Get the Gilded Dreams Artifact Set in Genshin Impact, Where to get Lunar (Nilotpala) Lotus in Genshin Impact