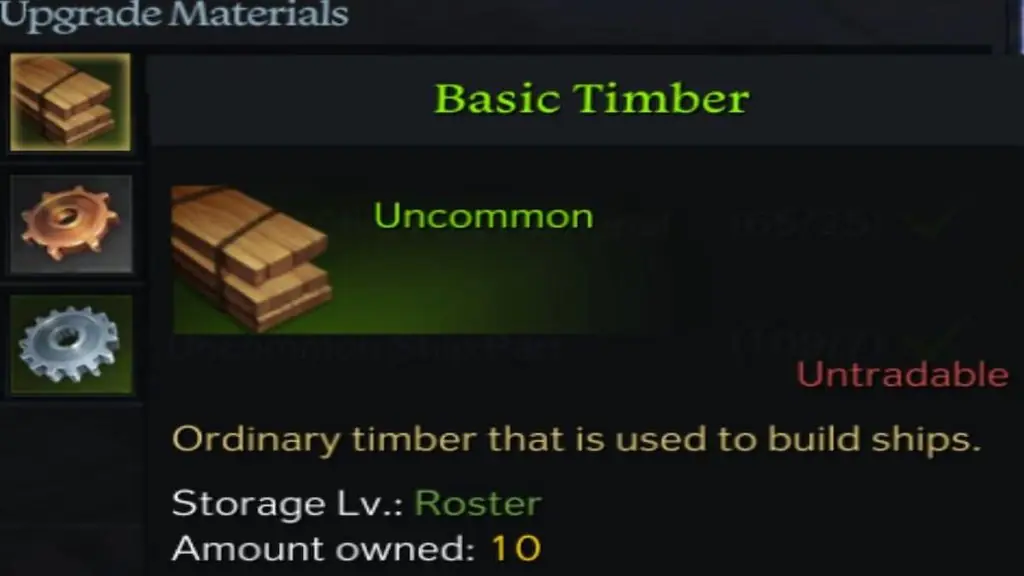 I wonder what the first knucklehead to figure out that wood floats was like. Just think, if that one person never, I dunno, randomly chucked a stick into a river or however it happened, we may never have created the gigantic, beautiful ships we have today. Yessir, a proper vessel, both in real life and in Lost Ark, starts with the finest wood. Here's where to get Basic Timber to upgrade ships in Lost Ark.
Basic Timber, as the name probably tipped you off, is a basic crafting ingredient used to both build ships in Lost Ark and upgrade them. Whether you want to own a whole fleet of ships or just want to have one really fancy ship, either way, you're going to need a lot of Basic Timber.
Related: When Does Harmony Island Spawn in Lost Ark? Answered
Basic Timber can only be obtained from traveling Merchant vessels. If you check ports and harbors like Arid Path or Wavestrand Port, you can usually find one or two docked at a time, or otherwise floating nearby in the open sea. These ships will trade you stacks of Basic Timber in exchange for Pirate Coins, which you can earn by completing various sailing and adventuring quests or sending ships from your fleet out on Voyages. One piece of Basic Timber will usually cost you around 250 Pirate Coins.
In addition to the ports, Merchant vessels may occasionally show up at your personal Stronghold to do business. The prices they'll charge for Basic Timber and other commodities will vary from Merchant to Merchant, so don't be afraid to shop around a little if the price isn't to your liking.
Once you've got some Basic Timber, as well as any other required components, just open up your ship menu, pick a ship, and press the upgrade button to spend the components and beef it up.