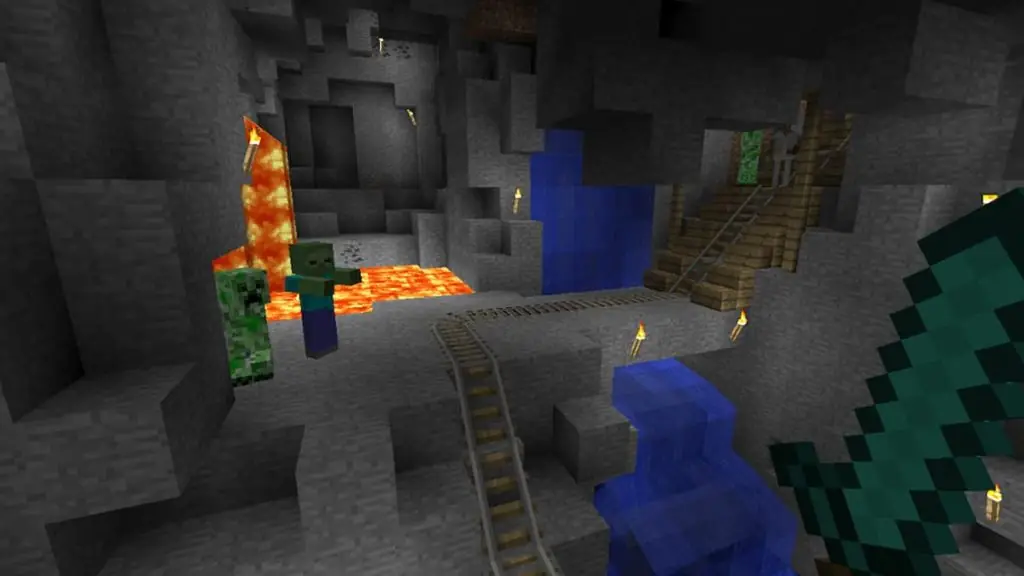 Minecraft is an epic sandbox game that rarely gets old. However, even the best games can get boring after a while. To ward off the monotony of everyday Minecraft, try building some cool structures! If you have an abundance of desire to build but are fresh out of ideas, try starting with these 8 coolest things to build in Minecraft!
Related: How to Make Scaffolding in Minecraft
Top 8 Coolest Things to Build in Minecraft
Live Volcano
Volcanoes are some of the coolest things to see on Earth, so it stands to reason that they'd be the coolest things to see in Minecraft too. Volcanoes are awesome to build in Minecraft, due to their simplicity and their awesome visual effect. (This turtle would not leave this Volcano alone for some reason.) You can build your volcano to be as huge and devastating as you want, but this volcano was built using these materials:
163 Cobblestone Blocks
171 Cobbled Deepslate Blocks
9 Obsidian Blocks
5 Deepslate Gold Ore Blocks
6 Deepslate Iron Ore Blocks
6 Buckets of Lava
Prisoner Cage
Have you ever wanted to teach your enemies a lesson beyond just killing them? Try building a prisoner cage! If you don't want to resort to murder but need to get a point across, indefinite imprisonment may be the solution you're searching for. These cages are quick and easy to make, and can be made anywhere! The chains aren't strictly necessary but definitely add to the sinister effect. Your cage's specifications may differ from this one depending on the number of prisoners you have, but this quaint little cage was built with these materials:
3 Chains
18 Blocks of Iron
16 Iron Bars
16 Redstone Torches
Inground Private Pool
If you aren't rich enough to buy an inground pool in real life, try building one in Minecraft! These private pools are versatile and can be built anywhere! Unlike pools in real life, Minecraft pools don't need chemicals or maintenance, making them some of the coolest things to build in Minecraft. You can build your dream pool based on your own specifications, but this inground pool was built using these materials:
90 White Glazed Terracotta Blocks
76 Light Gray Concrete Blocks
4 Smooth Quartz Slabs
55 Oak Wood Fences
1 Spruce Wood Fence Gate
6 Soul Torches
40 Water Buckets
Ice Volcano
Do you want to build a volcano but can't because you live in an icy biome? Try building an ice volcano! These volcanoes are quick to build and are much less dangerous than their flaming counterparts. Ice volcanoes take fewer materials to build and use water instead of lava. These eco-friendly volcanoes make any base look immediately cooler, build them as huge or as tiny as you want! This ice volcano wasn't as large as it could've been and was built using only these materials:
112 Blue Ice Blocks
18 Packed Ice Blocks
16 Ice Blocks
4 Buckets of Water
Ice Fishing Hut
These little huts are cute and perfect for snowy biomes! If you live in a cold biome and are frustrated with the lack of fishing spots, try ice fishing with a cool hut! These huts are, quite literally, some of the coolest things to build in Minecraft. If you'd like to ice fish in style, try building this sweet little fishing hut using these items:
40 Dark Oak Wood Stairs
12 Dark Oak Wood Slabs
1 Spruce Wood Door
2 Barrels
1 Water Bucket
Classic Cobblestone Generator
What's cooler than a classic? Classics are what they are for a reason. Every Minecraft player has needed or wanted a cobblestone generator at some point in their lives; they're easy to make and are incredibly useful! Rather than risk your life and your precious inventory for a couple of stacks of cobblestone, try building and mining from a cobblestone generator instead! These generators are super easy to make and only take these 2 items:
1 Bucket of Lava
1 Bucket of Water
Desert Pyramid
Deserts are some of the harshest places to live on Earth, the same goes for deserts in Minecraft. Deserts are barren, resourceless places in Minecraft; although they're not ideal places to live, they're great places to build! Deserts are long expanses of relatively flat land, building in Deserts is incredibly easy! Just like in real life, pyramids look best when they're in Deserts in Minecraft. You can make your pyramid large enough to live in or just small enough to be considered a cool decorative structure, but this pyramid was built with these materials:
56 Cut Sandstone Blocks
10 Chiseled Sandstone Blocks
32 Cut Sandstone Slabs
Exotic Fish Pond
If you've decided to start a tropical fish collection in Minecraft but have nowhere to put it, try building an exotic fish pond! Minecraft has added loads of new tropical fish, it's easy to want to collect them. These fish can easily be collected using water buckets, but it can be difficult to know where to put them once collected. These private fish ponds are the solution! These ponds can be made larger or smaller depending on how large your collection is, but this little fish pond was made with these materials:
12 Waxed Oxidized Cut Copper Blocks
12 Smooth Quartz Blocks
28 Warped Fences
10 Water Buckets
2 Lily Pads
Building structures is the most fun part of Minecraft, but new building ideas can be hard to come by. Be sure to stay up to date with Gamer Journalist for more Minecraft building ideas!