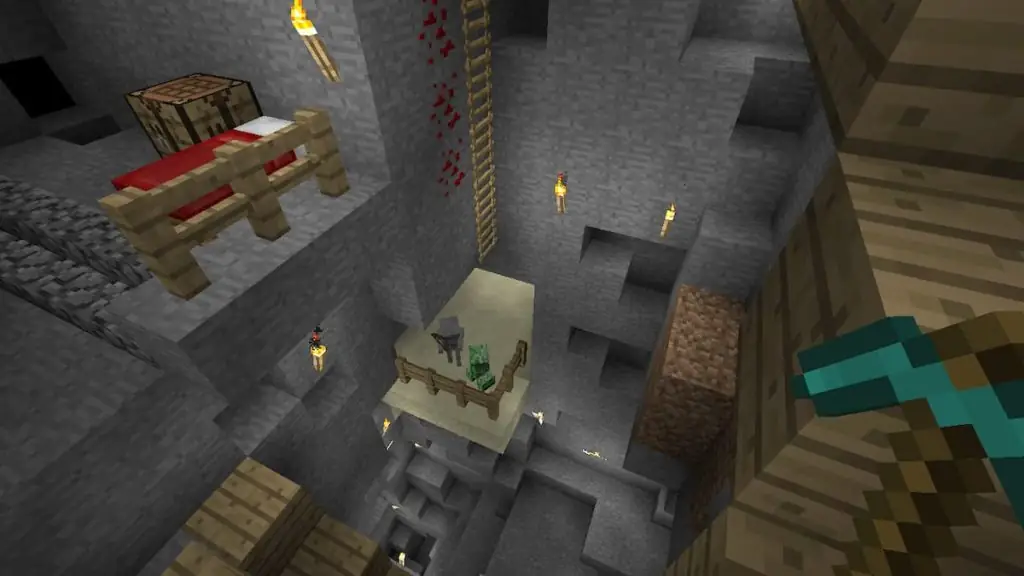 Surviving in Minecraft isn't always easy. Whether you're running from mobs or hiding from phantoms, being out in the open in Minecraft is dangerous! Everyone who's played Minecraft knows the importance of a good survival house; protection is everything. Whether you're a Minecraft veteran or a new player, you'll need a sturdy house if you're going to survive in Minecraft.
Protection notwithstanding, building Minecraft survival houses can be incredibly fun! Building their own houses allows players freedom of expression and creativity that they might not be able to have in real life. As important as creativity and freedom of expression is, it can be difficult sometimes to know where to start. If you've got an abundance of desire to build but aren't sure where to begin, try starting with these Minecraft survival house ideas!
Related: Top Ten Minecraft Cottagecore Building Ideas
Top 8 Survival Minecraft House Ideas
Countryside Farmhouse
There's nothing wrong with a nice, classic Minecraft farmhouse. Classics are what they are for a reason! This Minecraft survival house features a large farm with 4 compost barrels, so you'll never have to worry about going hungry again! This home is also surrounded by a barrier of fences, so it'll be difficult for mobs (especially creepers!) to get to you when you're least expecting it. This big, classic farmhouse and farm were built using these materials:
12 Oak Wood Logs
85 Dark Oak Wood Planks
43 Oak Wood Planks
3 Oak Wood Slabs
40 Oak Wood Stairs
20 Dark Oak Wood Stairs
3 Dark Oak Wood Slabs
1 Spruce Wood Door
51 Dark Oak Wood Fences
13 Gray Stained Glass Blocks
1 Oak wood Fence Gate
14 Torches
6 Lily of the Valleys
35 Oak Wood Fences
1 Dark Oak Wood Fence Gate
15 Water Buckets
4 Composters
28 Seeds
Brick Mob Farmhouse
This farmhouse, like the one before it, is based on more of a classic design. This Minecraft survival house, however, features a mob farm instead of a wheat farm! If you enjoy carrying around Minecraft's more filling foods, having a mob farm might prove to be more beneficial to you! This sturdy home is also built entirely out of bricks and stone, so you'll never have to worry about it catching fire. If you'd like to build this durable little home and farm, start with these materials:
8 Stone Brick Blocks
40 Brick Blocks
22 Stone Brick Stairs
12 Brick Slabs
4 Stone Brick Slabs
18 Spruce Planks (Interior Floor)
2 Spruce Doors
34 Brick Walls
25 Dark Oak Fences
1 Oak Fence Gate
14 Torches
Underground Base
This underground base provides the perfect protection from mobs! This survival house is well-lit, protected, and perfect for those who hate going outside to check the time! If you struggle with building roofs or are just vertically challenged when it comes to building, this base is perfect for you. This base is incredibly easy to build and only takes these materials:
29 Birch Wood Fence Posts
1 Birch Wood Fence Gate
1 Birch Wood Trapdoor
132 Stone Blocks
41 Glass Blocks
10 Torches
2 Ladders
1 Picture Frame (Interior Decoration)
2 Chests
1 Furnace
1 Red Bed
Packed Ice Igloo
Ice biomes can be difficult to track down in Minecraft, so when you do happen to stumble across one, you never want to leave! Building homes in ice biomes is easier than it seems, and more beneficial than many players believe. You can make your packed ice igloo to be larger to accommodate for storage needs, but this cute little survival house was built with only these materials:
44 Packed Ice Blocks
39 Birch Wood Fence Posts
1 Oak Wood Fence Gate
1 Stone Pressure Plate
1 Iron Door
2 Verdant Frog Lights
2 Barrels
Enchanted Waterfall Treehouse
Some of the best things in life include Minecraft and treehouses, mixing the two can only mean great things! Adding waterfalls to the mix only makes everything better; this waterfall treehouse is worth every second spent building! It's recommended that this treehouse only be built on large jungle trees or dark oak trees, but you could probably cram it all onto a smaller tree if you're determined enough. This specific treehouse, however, was built on a tall jungle tree using these items:
82 Jungle Wood Planks
36 Jungle Wood Stairs
8 Jungle wood Logs
16 Glowstone Blocks
2 Jungle Wood Doors
2 Water Buckets
18 Jungle Wood Fence Posts
2 Jungle Wood Fence Gates
Subzero Farmhouse
If you like the Minecraft farmhouse aesthetic and love having gardens, but live in a frigid biome, this Minecraft survival house is perfect for you! This little hut is quick and easy to build and even has an adjacent farm! Because this farm has a roof over it, it is able to be kept safely in snowy biomes. You can make this hut larger or smaller depending on your personal preference, but this little subzero farmhouse and garden were built using these materials:
8 Birch Wood Blocks
56 Birch Wood Planks
48 Birch Wood Stairs
1 Birch Wood Door
29 Birch Wood Fence Posts
1 Birch Wood Fence Gate
43 Birch Wood Slabs
12 Torches
6 Water Buckets
12 Seeds
XL Deluxe Gazebo
If you love Minecraft nature too much to block it off with solid walls, try building this deluxe gazebo home instead! This gazebo offers protection from mobs in the form of high fenced walls and good lighting; this house, although beautiful, may be a better choice for those playing in easy mode. This gazebo was built to be large, but feel free to customize it to be larger or smaller based on your personal preference. This gazebo home was built using these items:
80 Oak Wood Fence Posts
38 Oak Wood Stairs
72 Oak Wood Slabs
8 Glowstone Blocks
1 Birch Door
1 Yellow Bed
2 Chests
1 Furnace
4 Lilac Flowers (Exterior Decoration)
Protected Campsite
Campsites are great for nomadic players and minimilist players alike! These campsites are incredibly easy to make and are incredibly quick to put up and take down. Whether you're a nomadic explorer or are a minimilist Minecrafter who hates building houses, this guarded campsite is perfect for all Minecraft players! This campsite was built with these simple materials:
4 Stone Stairs
4 Stone Blocks
2 Stone Slabs
1 Red Bed
2 Campfires
24 Oak Wood Fence Posts
1 Oak Wood Fence Gate
Minecraft can be a difficult game to navigate sometimes, but it gets easier and more fun the more you play. If you love getting creative and building in Minecraft, check out these top things to build in Minecraft! Be sure to stick with Gamer Journalist for all your creative Minecraft needs!