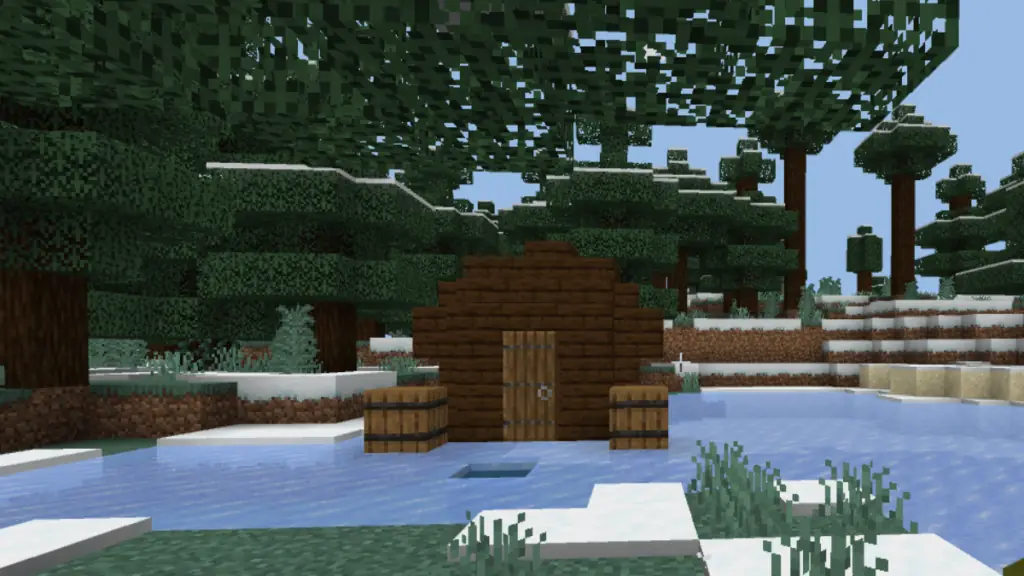 Whether you're a beginner or a Minecraft veteran, everybody needs a house in Minecraft. Fortunetly, houses can be easily built out of almost anything, at almost any location! However, not all houses can be as aesthetically pleasing as we'd like them to be.
Houses don't need to be ugly, haphazard structures built in a panic once the sun starts to set. Minecraft houses can be creative, fun, and easy to build! If you'd like to learn how to build a simple yet pretty Minecraft house, just keep reading!
Top 8 Minecraft Easy House Ideas and Designs
Brick House
This simple, yet durable brick home takes under 15 minutes to build and looks great! This Minecraft house features redstone torches instead of regular torches to fit into the house's theme better. If you're playing on any modes beyond easy, it's recommended you switch the redstone torches out for regular torches, for a wider range of mob-scaring light. If you'd like to build this simple brick house, all you'll need are these materials:
34 Stone Brick Blocks
13 Brick Blocks
32 Stone Brick Stairs
25 Brick Stairs
4 Brick Slabs
2 Stone Brick Slabs
1 Iron Door
1 Stone Pressure Plate
6 Redstone Torches
Nether Brick House
Do you love going to the Nether? Do you ever wish you could just bring some of the Nether realms back with you to the overworld? With this Minecraft house, you can! This small house has a vibrant color scheme, and is perfect for Nether lovers! To build this little Nether cabin, start with these materials:
26 Nether Brick Blocks
34 Red Nether Brick Blocks
24 Red Nether Brick Stairs
30 Nether Brick Stairs
2 Nether Brick Slabs
4 Black Stained Glass Blocks
6 Soul Lanterns
28 Netherrack Blocks
4 Glowstone Blocks
2 Crimson Doors
Neapolitan House
Why stop at two colors when you can have three? This Neapolitan house was built using three different types of wood, in under 20 minutes! This house is surprisingly easy and quick to build! You don't need to sacrifice style for practicality to build this Minecraft house, all you need is a lot of wood! To build this Neapolitan Minecraft house, start by gathering these items:
20 Oak Wood Stairs
24 Spruce Wood Stairs
19 Birch Wood Stairs
41 Oak Wood Planks
4 Birch Wood Slabs
4 Oak Wood Slabs
1 Spruce Wood Slab
5 Brown Stained Glass Blocks
1 Spruce Wood Door
10 Spruce Wood Planks
4 Soul Torches
Mossy Cobblestone Lair
This little lair may be small, but its spooky aesthetic makes up for its small size! This house would be perfect for a minimalist Minecrafter or as a decorative structure around Halloween time. Because it's a small house, it takes fewer materials and is even faster to build! To build this spooky cobblestone lair, gather these materials:
18 Mossy Cobblestone Blocks
16 Cobblestone Blocks
60 Mossy Cobblestone Stairs
12 Iron Bars
2 Torches
2 Dark Oak Wood Fence Gates
4 Mossy Cobblestone Walls
Dark Oak Log Cabin
These log cabins are quick to build and only require one type of wood! You can make log cabins in Minecraft out of any wood you prefer, but this log cabin was built with dark oak to make it stand out against its landscape. This cabin also features a cobblestone wall around the base, making it more difficult for hostile mobs to find their way into your home! These are the materials needed for making this simple log cabin:
62 Dark Oak Wood Stairs
10 Dark Oak Wood Planks
9 Dark Oak Wood Slabs
1 Dark Oak Wood Door
31 Cobblestone Walls
Acacia Wood Hut
Acacia wood may not be a type of new wood in Minecraft, but it's still one of the prettiest. When paired with spruce wood, acacia becomes a beautiful, eye catching burnt orange color that looks striking against any landscape! This little hut also features a lot of torches for light, and few orange tulips to help bring out the pretty orange of the hut. To build this simple Minecraft hut, you'll need to gather up these materials:
24 Acacia Wood Planks
36 Spruce Wood Planks
24 Acacia Wood Stairs
30 Spruce Wood Stairs
2 Spruce Wood Slabs
2 Spruce Wood Doors
6 Brown Stained Glass Blocks
10 Torches
4 Orange Tulips
Flower Cabin
These flower cabins are perfect for flower forests and plains biomes alike! If you like cottage based homes in Minecraft, you'll love this cute little Minecraft house! This house is made with common wood types and is quick to build, though you can make this cabin larger or smaller based on individual preferences. If you'd like to build one of these cute little cabins, you'll need these items:
19 Birch Wood Planks
16 Oak Wood Planks
11 Oak Wood Stairs
5 Birch Wood Stairs
1 Birch Wood Door
9 Birch Wood Slabs
4 White Stained Glass Blocks
6 Torches
Treehouse Cabin in the Woods
Nearly every Minecraft player has built a treehouse before; treehouses are easy to build and keep you safe from most hostile mobs! This treehouse is large and features a lot of windows, so you're able to keep track of everything both inside and outside your home! If you'd like to build this roomy cabin in the trees, start by gathering up these materials:
48 Birch Wood Planks
16 Oak Wood Planks
26 Oak Wood Stairs
14 Birch Wood Stairs
4 Oak Wood Slabs
16 Glass Blocks
24 Torches
2 Birch Wood Doors
Related: Minecraft Treehouse Ideas and Designs
Building structures in Minecraft doesn't have to be stressful! The more you build the better you get, so don't give up on your dream builds! If you love playing survival Minecraft and need houses that offer better protection from mobs, ch8eck out these Minecraft survival house ideas. Minecraft is coming out with new updates and new building materials constantly, be sure to stick with Gamer Journalist for all your Minecraft building needs!