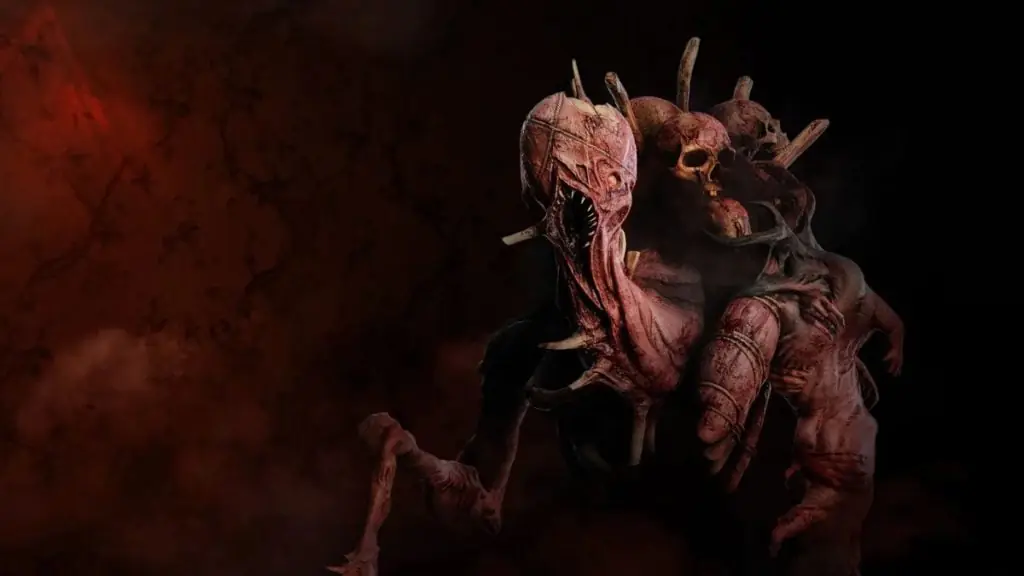 We keep getting asked what are the top 5 builds for Dredge in Dead by Daylight. The Dredge is the newest killer for this iconic game, and it is a sight to behold. Its form is the physical manifestation of suffering, and it has some really useful perks and buffs. Outside of that, it looks like something that crawled from your drain while you were using the shower. All that aside, we do know the five best builds for The Dredge so read on.
So in layman's terms, The Dredge is DBD's proverbial boogeyman. A creature born from people's worst fears, and then using those fears as a weapon. Yes, Dead for Daylight can be daunting with 200+ perks, so here are some useful builds to maximize your damage as The Dredge.
The Monstrous Silence
Perks needed:
Tinkerer
Dark Devotion
Hex: Plaything
Hysteria
As you can tell by the perk and the name, this makes The Dredge a stealth master. The Tinkerer alerts the killer when a generator is almost complete, which grants undetectable. The other 2 perks are also undetectable buffs.
As you can imagine, this buff truly makes you a silent killer. It is like playing Metal Gear as a mutant murder machine.
Related: How To Get Frightful Flan in Dead by Daylight?
The Eater of the Weak
Perks needed:
A Nurse's Touch
Septic Touch
Sloppy Butcher
Distressing
With a build name like that, you can't lose. This build makes you focus on keeping survivors hurt and preying on them when they heal. As you know, many of the perks above cause ailments like blindness and exhaustion.
You can also do this to cause the Darkness to come quicker, as injured party members affect it. Basically, you keep people exhausted and injured and then finish them off in the dark of night.
The Jailer (End-Game)
Perks needed:
No Way Out
Remember Me
Blood Warden
Hex: No one Escapes Death
As pointed out, this is an end-game build that seemingly traps the survivors for as long as possible. No Way out locks the exit gates when first touched. On top of that, Remember Me greatly slows down the opening process. Now imagine those perks stacked.
Then, Blood Warden seals the exit while a survivor is hooked. And we all know what No One Escapes Death does. You trap the survivors like mice with this build, then you exterminate them like a mouse catcher.
The Thing Underground
Perks needed:
Agitation
Iron Grasp
Territorial Imperative
Monstrous Shrine
This is what we often call a basement build. The main goal is to get a survivor in the basement and to keep them there for a long duration. When you pair Agitation and Iron Grasp, you have a death grip on them. That ensures you the chance to bring them to the basement without escape.
Territorial Imperative lets The Dredge know when a survivor enters the basement. Monstrous Shine then ensures a hooked victim dies as fast as possible. It can be a hit-or-miss build because you can't locker teleport. But when The Thing Underground works, it is smooth as butter.
The Sorcerer
Perks needed:
Hex: Devour Hope
Hex: Undying
Hex: Thrill of the Hunt
Hex: Retribution
We had to put at least one high-risk-high reward build. Some of you just like playing on the edge. Devour Hope leaves survivors exposed making The Dredge more lethal. Undying essentially acts as a buffer for the other hexes.
That paired with Thrill of the Hunt slowing down healing. Then Retribution makes the healing survivors stand out even more. With the first buffs making Dredge very lethal, and the bottom perks making healing impossible, this build can be swift and brutal.
So which of these five best builds for The Dredge in Dead by Daylight is YOUR favorite?