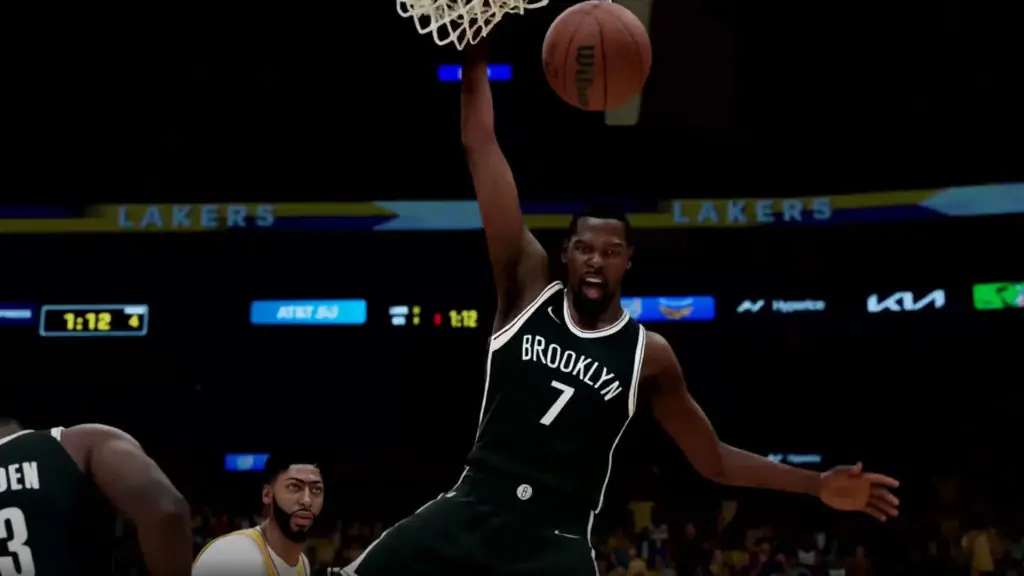 The small forward, otherwise known as the three, is one of the most important and typically the most versatile player on a basketball court. In NBA 2K23, they are generally shorter, faster and more athletic than power forwards but bigger and stronger than guards. As a result, they must not only be able to shoot and drive effectively but dribble, pass, rebound and defend at a high rate as well.
Being that every winning franchise needs to have an elite small forward and that NBA 2K23 ratings are just around the corner. We've decided to make some early predictions for who the top 10 small forwards will be in NBA 2K23.
NBA 2K23 – Top 10 Small Forward Predictions
10) Miles Bridges (Charlotte Hornets) – NBA 2K22 OVR 78
Despite being in the midst of some pretty serious legal allegations, Miles Bridges is still projected to be included in NBA 2K23. In his fourth year with the Hornets, Bridges posted career-highs in points (20.2), rebounds (7.0), assists (3.8), steals (0.9) and blocks (0.8) per game. He also played in 80 of 82 games and averaged over 35 minutes a night with .491/.331/.802 shooting splits. While his future in the NBA remains in question, there's no denying that he's one of the best basketball players in the world.
Prediction – 84 OVR (+6)
9) Andrew Wiggins (Golden State Warriors) – NBA 2K22 OVR 80
Next we've got the small forward who probably raised their stock the most last season, Andrew Wiggins. While his point (17.2), rebound (4.5), assist (2.2) and steal (1.0) totals fall right in line with his career averages, he's coming off his most efficient year yet. Shooting 47% from the field and a career-high 39% from the three-point line. Most importantly, he played a major role in the Warriors championship run averaging over 16 points and 7 rebounds per game, which was nearly enough for him to win Finals MVP.
Prediction – 84 OVR (+4)
8) R.J. Barrett (New York Knicks) – NBA 2K22 OVR 83
Another young swingman (and Canadian) who saw his numbers jump up dramatically last year was R.J. Barrett. Who posted career-highs in points (20.0), rebounds (5.8), and assists (3.0) per game on .408/.342/.714 shooting splits. While he didn't take home any major accolades, there's no question that he's the future face of the Knicks franchise and one of the best all-around talents in the NBA. As a result, I suspect he will receive a small boost in his NBA 2K23 rating.
Prediction – 85 OVR (+2)
7) Brandon Ingram (New Orleans Pelicans) – NBA 2K22 OVR 84
After winning the Most Improved Player Award in 2020, Brandon Ingram has been a steady force for the Pelicans. While his scoring totals dropped off slightly last season, he improved his rebounding (5.8 per game) and assist (5.6 per game) output. While still dropping over 22 points a night, shooting better than 46% from the field, 33% from deep and 83% from the free-throw line. So, he too should be one of the top-rated small forwards in NBA 2K23 at launch.
Prediction – 85 OVR (+1)
6) Khris Middleton (Milwaukee Bucks) – NBA 2K22 OVR 88
Another player who hasn't fallen off a bit is Khris Middleton. Last season, he was an NBA All-Star and posted career-highs in assists (5.4) and blocks (0.3) per game. Although, he held his spot as one of the most efficient shooters in the league as well, finishing the year with .443/.373/.890 shooting splits. To go along with over 20 points, 5 rebounds and a steal per game. Being that he hasn't dropped off from where he was a year ago, I feel that he should end up with a fairly similar rating in NBA 2K23.
Prediction – 88 OVR (+0)
Related: NBA 2K23 – Top 10 Shooting Guard Predictions
5) Jimmy Butler (Miami Heat) – NBA 2K22 OVR 91
Even though Butler's numbers were nearly identical in 2022 as they were in 2021, he was an absolute menace in the playoffs. Setting career-highs in points per game (27.4) to go along with 7.4 rebounds, 4.6 assists and over 2 steals per game over the course of 17 postseason contests. Since his regular season scoring, rebounding and assist totals dropped down slightly, as well as his efficiency numbers. I feel like this will unfortunately offset his incredible playoff performance when NBA 2K23 ratings roll around.
Prediction – 91 OVR (+0)
4) Kawhi Leonard (Los Angeles Clippers) – NBA 2K22 OVR 95
While there's a good chance that Leonard fully recovers from his ACL tear, we still haven't seen him play in over a year. Which leads me to believe that NBA 2K23 won't be too kind with his launch rating, at least until he's back on the court and can prove his dominance. Nevertheless, the last time we saw Leonard he was averaging 25 points, 6.5 rebounds, 5.2 assists and 1.6 steals per game on .512/.398/.885 shooting splits. So, he should still carry one of the better OVR ratings in the game.
Prediction – 92 OVR (-3)
3) Jayson Tatum (Boston Celtics) – NBA 2K22 OVR 90
Going in the opposite direction we've got Jayson Tatum. Who wasn't just on the court for most of last season but also set career-highs in numerous categories. Including points (26.9), rebounds (8.0), and assists (4.4) per game while averaging over 35 minutes a night on .453/.353/.853 shooting splits. Which was enough to earn him his third-straight All-Star game invitation and his first-ever First Team All-NBA nod. Not to mention a trip to the NBA Finals, cementing himself as one of the best young players in the league.
Prediction – 94 OVR (+4)
2) Kevin Durant (Brooklyn Nets) – NBA 2K22 OVR 96
Between James Harden getting traded mid-season, Kyrie Irving playing in less than 30 games, and Ben Simmons not playing in any games. Kevin Durant was relied on to be the heart and soul of the Brooklyn Nets, in which he thrived. In 56 games played, Durant was among the league-leaders in points per game (29.9) and free-throw percentage (91%). However, he also posted solid per game stats in rebounding (7.1) and assists (6.4) while still knocking down over 52% of his shots from the field and 38% from deep. So, I see him carrying one of the better overall ratings once again in NBA 2K23.
Prediction – 96 OVR (+0)
1) LeBron James (Los Angeles Lakers) – NBA 2K22 OVR 96
That's right, The King reclaims his throne in NBA 2K23. In his 19th year in the league, LeBron finished third in scoring (30.3 points per game), shooting over 52% from the field, 36% from long range and 76% from the line. While still averaging over 8 rebounds, 6 assists, one steal and one block per game. James doesn't appear to be showing any signs of slowing down and probably would've taken home league MVP last season had his team held up their end of the bargain. As a result, LeBron should have one of the best ratings in NBA 2K23 at launch.
Prediction – 97 OVR (+1)
That concludes our early predictions for the top 10 small forwards in NBA 2K23. Before you go, be sure to check out some of our other NBA 2K23 content here at Gamer Journalist. Like all NBA 2K23 editions and cover athletes, explained or predicting the top 5 teams to play for in NBA 2K23.