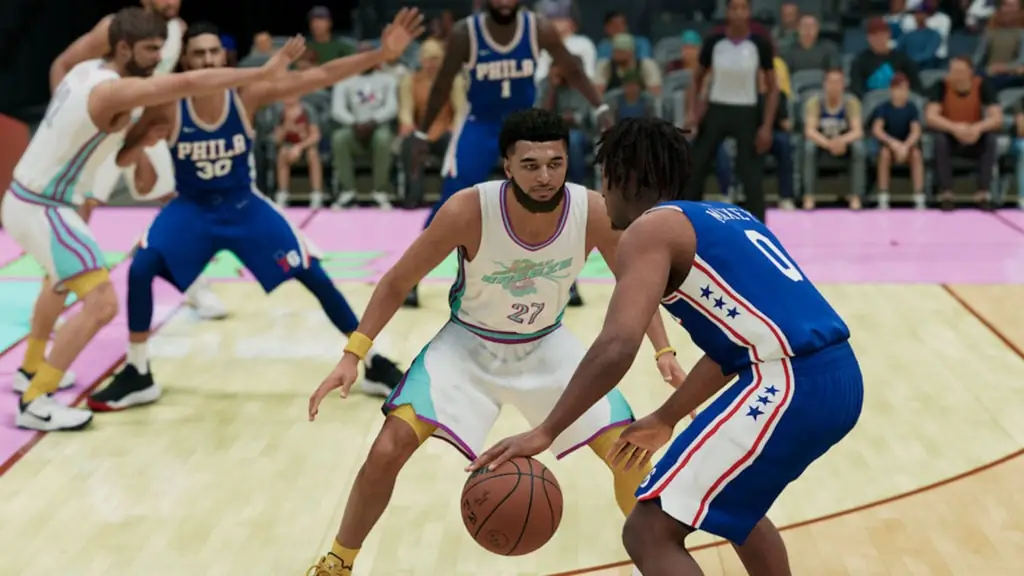 NBA 2K23 is on the way, which means that the hype is just now beginning to mount for the release of the epic sports title. As we await an official announcement from 2K Sports with details on the release date, cover athlete and projected gameplay features. It's time to get some early predictions out for which teams might be the best to play for in the NBA 2K's most popular game mode, MyCareer.
Here are our predictions for the top five teams to play for in NBA 2K23 MyCareer.
The 2022 NBA offseason isn't even over and the majority of major transactions haven't even taken place. Yet, we already have an idea for how each roster will shape out next season due to some of the trades and signings that have already gone down. Not to mention this year's NBA Draft, which introduced several fresh faces set to take the league by storm.
Without further ado, here's our early prediction for the five teams you'll want to play for in NBA 2K23 MyCareer.
#5 – Los Angeles Clippers (Best for Centers)
The Los Angeles Clippers had a single draft pick in the 2022 NBA Draft, and it was a second-round selection used on Michigan's Moussa Diabate. While the team still has Ivica Zubac, who put up decent numbers last season, the team has very little cap space to sign anybody of real value this offseason.
This means that they will likely go into next season with Zubac and Diabate as their only players at the center position. Not only should this be some fairly easy competition but the Clippers aren't a bad team by any stretch of the imagination. They still have Kawhi Leonard and Paul George, and most view them as just one or two pieces away from competing for a championship. You could be that piece in NBA 2K23.
#4 – Chicago Bulls (Best for Power Forwards)
The Chicago Bulls are another team with very little cap space this offseason, albeit more than the Clippers. Nevertheless, there aren't too many quality power forwards on the market anyway, at least within the Bulls price range. The team also had zero draft picks in the 2022 NBA Draft, and has zero traditional power forwards currently on the roster.
All of this is to say that if you're somebody who enjoys playing the power forward position in NBA 2K23, then the Chicago Bulls are the team for you. Not only is there nobody in front of you who's already claimed the starting job but Chicago is another team that's very close to competing in the Eastern Conference. They still have DeMar DeRozan, Lonzo Ball and Nikola Vucevic (and probably Zach LaVine). So, you could very well be that final touch to push them over the top.
Related: NBA 2K23: Top 10 Rookie Rating Predictions
#3 – Minnesota Timberwolves (Best for Small Forwards)
The Minnesota Timberwolves have the third-least amount of available cap space this summer. As a result, they aren't expected to make any major moves in free agency. While the future of point guard, D'Angelo Russell, remains up in the air, the team still has a glaring hole at the small forward position.
Even though the Timberwolves had plenty of draft picks, only one was technically used and it was on 6'4" Italian guard, Matteo Spagnolo. Meaning that the only way for this team to improve in the small forward department is if you choose to join them. Starting alongside superstars Anthony Edwards and Karl-Anthony Towns, you could easily bring the T-Wolves their first NBA championship in franchise history.
#2 – Brooklyn Nets (Best for Shooting Guards)
Much like other teams on our list, the Brooklyn Nets are one of the more cap-strapped teams in the association. Not only do they have the sixth-least amount of available cap space but they also didn't have a single pick in the 2022 NBA Draft. Everybody knows about Brooklyn's big three of Kevin Durant, Kyrie Irving and Ben Simmons, but none of them play shooting guard.
Sure, the team already has Joe Harris and Seth Curry locked up to long-term deals. But they're both over 30-years-old and have far from guaranteed their spot on the roster. This means that if you're looking for a team in which you can flourish as a premier shooting guard in NBA 2K23, then the Nets are the team for you. Alongside KD, Kyrie and Simmons, you could help to form the deadliest offensive juggernaut in the NBA.
#1 – Washington Wizards (Best for Point Guards)
Johnny Davis was drafted ninth overall by the Wizards and is technically a guard. Although, he never averaged more than two assists per game in college, so, it's hard to consider him a pure point guard. Past that, Washington still has Bradley Beal and Kentavious Caldwell-Pope on the roster, both of whom play shooting guard.
Not only that, but the Wizards have even less cap space than the Nets, and aren't likely to sign anybody of significance after re-signing Beal. This means that if you're a point guard and you're looking for a team to play for in NBA 2K23, then Washington is the answer. Your only competition would be Ishmael Smith and the team could make some noise in the Eastern Conference as early as next season.
That concludes our prediction for the top five teams to play for in NBA 2K23 MyCareer. As we wait for more information on the release of NBA 2K23, be sure to check out some of our other NBA 2K content here at Gamer Journalist. Like the ten best Diamond cards in NBA 2K22 or the best playbooks in NBA 2K22.