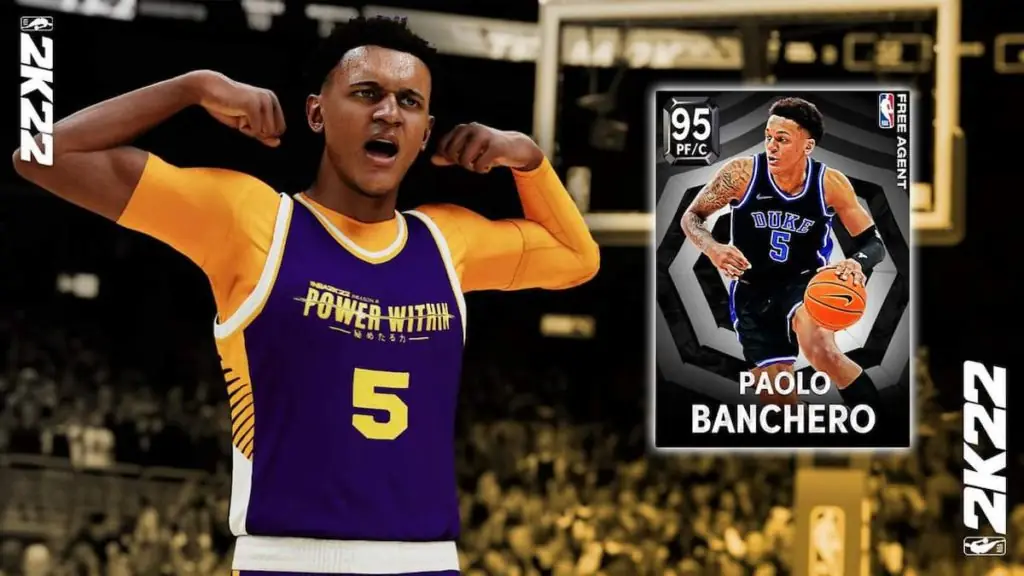 Now that the 2022 NBA Draft is in the rear-view mirror, a variety of fresh faces have signed rookie contracts and set out on their journey to become the next NBA superstar. While it's still too early to predict how each player will mesh with their respective team or how they will adjust to playing at the professional level. It's never too early to predict how they will rank in NBA 2K23.
Here are our early predictions for the top ten rookie ratings in NBA 2K23.
Obviously, there's a good chance that the following ratings will change over the course of the 2022-23 NBA regular season. Particularly since we haven't even seen how these players will fit into the rotation for their respective club. However, here's how we predict the top ten rookies to be rated at launch of NBA 2K23.
#10 – Jeremy Sochan, F (San Antonio Spurs)
Rating Prediction – 74
First off, we've got the positionless forward from Baylor, Jeremy Sochan. While he's going to need more time to develop than other players on this list, particularly on offense, which is something that NBA 2K tends to favour with their ratings. He's still an intelligent playmaker who can defend at a high level due to his length and incredible athleticism. So, he should still rank among the better players in NBA 2K23.
#9 – Shaedon Sharpe, G (Portland Trail Blazers)
Rating Prediction – 74
Despite getting drafted 7th overall, Shaedon Sharpe is the biggest wild card amongst all draftees. Since he's the only one who didn't play a single minute in college or the G League. So, much like Sochan, Sharpe will need time to develop. But if he can live up to his potential, he's arguably the most athletic scorer and dynamic playmaker in the draft, with the makings to become the next face of the league. Which is why he too should have one of the better rookie ratings in NBA 2K23.
#8 – Dyson Daniels, G (New Orleans Pelicans)
Rating Prediction – 75
Taking things into a different direction we have Dyson Daniels. Who's a far more polished product compared to Sharpe and Sochan. Daniels not only has experience and production while playing at a high level, having spent last year with G League Ignite. But he's also one of the more well-rounded players in this rookie class. As a massive, versatile, transition-oriented and defensive-minded forward, he could easily turn a few heads in 2023. Expect him to be granted one of the better rookie rating in NBA 2K23.
#7 – Johnny Davis, G (Washington Wizards)
Rating Prediction – 76
Next up we have my personal favourite player from the first-round of the draft, Johnny Davis. Davis was an absolute menace at Wisconsin and is widely regarded as one of the more reliable guards in this rookie class. He's a big guard who can make plays with and without the ball but he also has a polished offensive game and is one of the more competitive players in the draft. I'd be shocked if he didn't receive at least a 76 overall rating in NBA 2K23.
#6 – Keegan Murray, F (Sacramento Kings)
Rating Prediction – 76
He might be going to a dysfunctional organization with a less than desirable history for ruining draft picks, but Keegan Murray is another very well-rounded prospect nevertheless. The Iowa product can defend at a high-level and shoot the ball from just about anywhere on the court. Murray may not have the upside that other players on this list do, but he should be able to make an impact right away. As a result, I suspect NBA 2K23 will be kind with their ratings towards Keegan Murray.
Related: NBA 2K23 Release Date & What We Know So Far
#5 – Bennedict Mathurin, F (Indiana Pacers)
Rating Prediction – 77
Bennedict Mathurin is arguably the most intriguing prospect from the 2022 NBA Draft. Above all else, he's an extremely confident, fiery plug-and-play guard who can impact the game, specifically on offense. With the playmaking and versatility to become a legitimate star in the NBA. His three-point shooting will need improvement, but his 6'6" frame provides him with the length to do just about everything else. His upside and explosiveness alone should land him with one of the higher ratings in NBA 2K23.
#4 – Chet Holmgren, C (Oklahoma City Thunder)
Rating Prediction – 78
Chet Holmgren has everything you could want in an NBA 2K big man; he's long, aggressive, protects the rim and can shoot the lights out from long range. Making him instantly one of the more exciting young players in the association, a "unicorn" if you will. In all honesty, there's a good chance that he finishes with the best rookie rating in NBA 2K23 but there are just a couple other players who I believe are slightly more polished at the moment and will be rewarded as a result.
#3 – Jaden Ivey, G (Detroit Pistons)
Rating Prediction – 78
NBA 2K ratings tend to lean heavily towards two-way players who are athletic enough to score and defend at an elite level, and that's Jaden Ivey. The Purdue product is another extremely exciting young player who has blazing speed and the ability to put pressure on the rim, making him a devastating force in transition. He'll be a fascinating player to watch next season and should carry one of the best rookie ratings in NBA 2K23 at launch.
#2 – Jabari Smith Jr., F (Houston Rockets)
Rating Prediction – 79
Next we've got in all likelihood the most balanced and versatile player from this year's draft, Jabari Smith Jr. Despite going third overall, many viewed Smith as the top prospect in the draft. Not only is he one of the best jump shooters for his size (6'10", 220-pounds), but he's also incredibly competitive and an elite scorer by every definition. Most importantly, he's a switchable defender who can guard any position one through five. If Orlando had taken him first overall, I suspect he would have the best rating in NBA 2K23.
#1 – Paolo Banchero, F (Orlando Magic)
Rating Prediction – 81
Surprise, surprise, the number one pick in the draft has stolen the show as the top-rated rookie in NBA 2K23, albeit for good reason. Banchero was an absolute stud at Duke and a five-star recruit in the class of 2021, he's widely regarded as the most "NBA-ready" player in the draft and should have no problem adjusting to the next level. Expect his name to be featured at the top of the list when NBA 2K23 launches.
That's everything you need to know about our top ten rookie rating predictions for NBA 2K23. As the hype begins to mount for the release of NBA 2K23, be sure to check out some of our our other NBA 2K content here at Gamer Journalist. Like the June 2022 locker codes or the Music Trivia answers for NBA 2K22 MyCareer.