The shooting guard position requires far more than outside shooting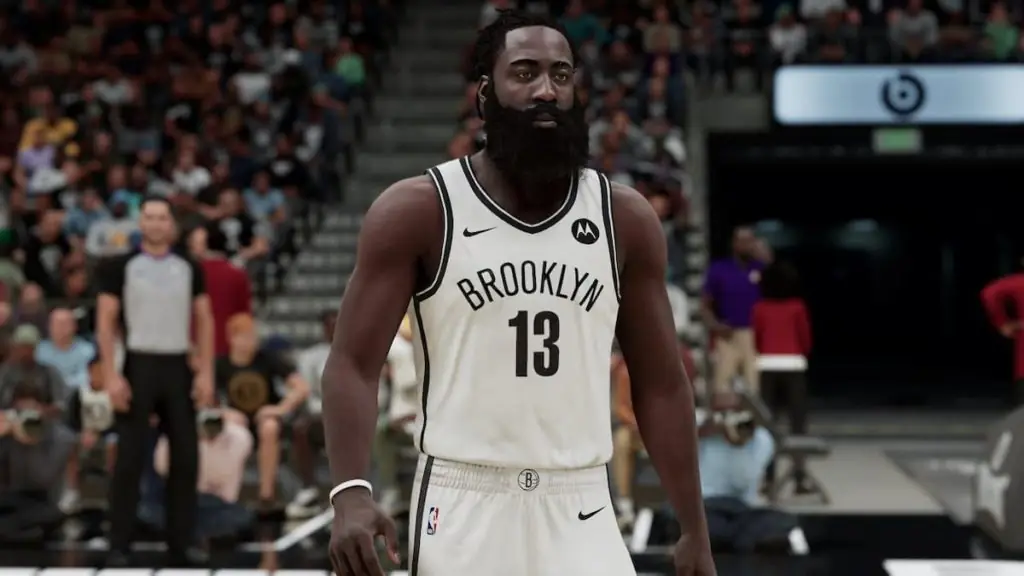 The shooting guard (or the off guard) is generally considered to be the team's best perimeter shooter and top scoring option. In NBA 2K22, they are tasked with knocking down both open and contested shots at a high rate, while also playing reliable defense on the other end. Not only that, but they also tend to be the team's secondary ball-handler.
As a result of them having so much responsibility, the shooting guard you choose to bolster your lineup could be the difference between you having a winning or losing season. Luckily, we've created this NBA 2K22 tier list ranking all of the best shooting guard in the game.
NBA 2K ratings fluctuate throughout the regular season and playoffs depending on player performance and sustainability. So, the following rankings are based on their attributes and abilities by the end of the 2021-22 NBA season (including the playoffs).
Here is our official NBA 2K22 shooting guard tier list:
Tier S Players
James Harden (92), Philadelphia 76ers
Devin Booker (91), Phoenix Suns
Paul George (88), Los Angeles Clippers
Tier A Players
Zach LaVine (88), Chicago Bulls
Shai Gilgeous-Alexander (88), Oklahoma City Thunder
Donovan Mitchell (87), Utah Jazz
Bradley Beal (87), Washington Wizards
C.J. McCollum (87), New Orleans Pelicans
Tier B Players
Tyler Herro (85), Miami Heat
Anthony Edwards (83), Minnesota Timberwolves
Klay Thompson (83), Golden State Warriors
Tyrese Haliburton (83), Indiana Pacers
Terry Rozier III (82), Charlotte Hornets
Jordan Poole (81), Golden State Warriors
Anfernee Simons (81), Portland Trail Blazers
Jalen Green (80), Houston Rockets
Related: NBA 2K22 Best Point Guards Tier List (July 2022)
Tier C Players
Bogdan Bogdanovic (80), Atlanta Hawks
De'Anthony Melton (80), Philadelphia 76ers
Collin Sexton (79), Cleveland Cavaliers
Buddy Hield (79), Indiana Pacers
Luguentz Dort (79), Oklahoma City Thunder
Derrick White (79), Boston Celtics
Gary Trent Jr. (79), Toronto Raptors
Immanuel Quickley (78), New York Knicks
Tier D Players
Caris LeVert (78), Cleveland Cavaliers
Malik Monk (78), Sacramento Kings
Will Barton (78), Washington Wizards
Seth Curry (78), Brooklyn Nets
Jordan Clarkson (77), Utah Jazz
Bruce Brown Jr. (77), Denver Nuggets
Luke Kennard (77), Los Angeles Clippers
Ayo Dosunmu (77), Chicago Bulls
Tier E Players
Malik Beasley (77), Utah Jazz
Chris Duarte (77), Indiana Pacers
Javonte Green (77), Chicago Bulls
Caleb Martin (77), Miami Heat
Donte DiVincenzo (76), Golden State Warriors
Victor Oladipo (76), Miami Heat
Kevin Huerter (76), Sacramento Kings
Evan Fournier (76), New York Knicks
Tier F Players
Grayson Allen (76), Milwaukee Bucks
Josh Cristopher (76), Houston Rockets
Josh Richardson (76), Sacramento Kings
Lance Stephenson (76), Indiana Pacers
Lonnie Walker IV (76), Los Angeles Lakers
That concludes our NBA 2K22 tier list ranking all of the best shooting guards in the game. In the meantime, be sure to check out some of our other NBA 2K content here at Gamer Journalist. Like all Michael Jordan Challenges in NBA 2K23 explained or how much does each NBA 2K23 edition cost?