Distinctive objects have gotten a little bit of a nasty rap since Diablo 4 got here out, and I can form of perceive why. It is annoying to select up a chunk of long-awaited gear solely to find that it would not suit your construct. Even worse; it is perhaps nearly adequate to justify the large value of respecc-ing every thing to suit it in. 
Whereas the Distinctive objects that may be geared up by all classes are principally helpful—my Necro's sporting a thorny Razorplate at once—the class-specific Uniques are undoubtedly responsible of flipping the desk. They usually really feel experimental in a game where gear prices an excessive amount of to justify messing round. However here is the factor: I feel they're nice.
I really like choosing up a chunk of substances that is like "Hey, you recognize that skill you are crutching on? Now it does one thing fully completely different and doubtlessly ineffective. Go nuts!" It usually feels such as you're being posed a problem in making it work. You may need seen the Barb's Fists of Destiny that Tyler posted concerning the different week, however the Necromancer has some preposterous Distinctive objects, too. The Cold Scream scythe makes all Darkness expertise apply Chill, which actually threw a wrench in my Shadow Necro construct. My private favorite, although, is Howl From Beneath.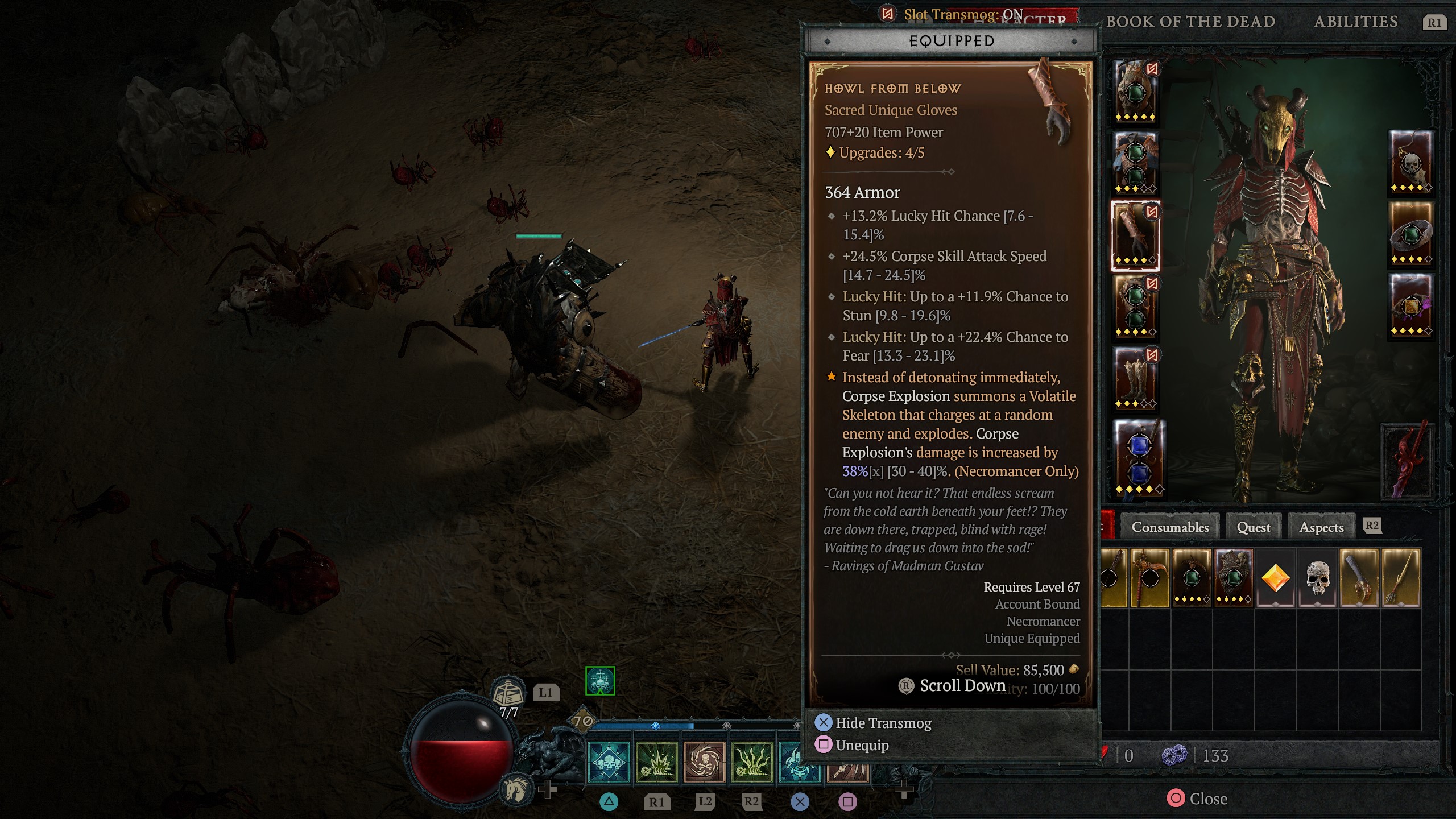 Think about taking a dependable skill like Corpse Explosion and reworking it into pure anarchy. As an alternative of exploding a physique, these gothic gloves make it in order that the corpse spawns a sprinting skeleton who beelines in a random path and finds an unwitting enemy to detonate. With the pace at which you cast Corpse Explosion, this results in an countless procession of suicidal skeletons, born working in random instructions solely to blow up a second later. You'd virtually really feel dangerous if it wasn't for the enemies they're taking with them.
The true problem with Howl From Beneath, as with most Distinctive objects, has been making an attempt to combine it into my setup. As you'll be able to inform from my Necromancer construct, I actually like Corpse Explosion, but it surely's arduous to be constant when a lot is left as much as the need of the skellies. Will they injury the enemy I would like them to? Or will they run in the other way? Possibly that is what it feels wish to be a minion; powerless as you watch as your valuable risky skeletons disappear into the gap, leaving a horde of untouched enemies able to clobber you.
Nonetheless, I undoubtedly desire my Distinctive objects to be a bit random or fully change how a capability works. The one factor I actually want is that Blizzard made it simpler to experiment and mess around with these things with out having to sink absurd prices in respecc-ing. I suppose, like my exploding bone-friends, I am simply doomed to create a brand new Necromancer every season so I can attempt all of them.