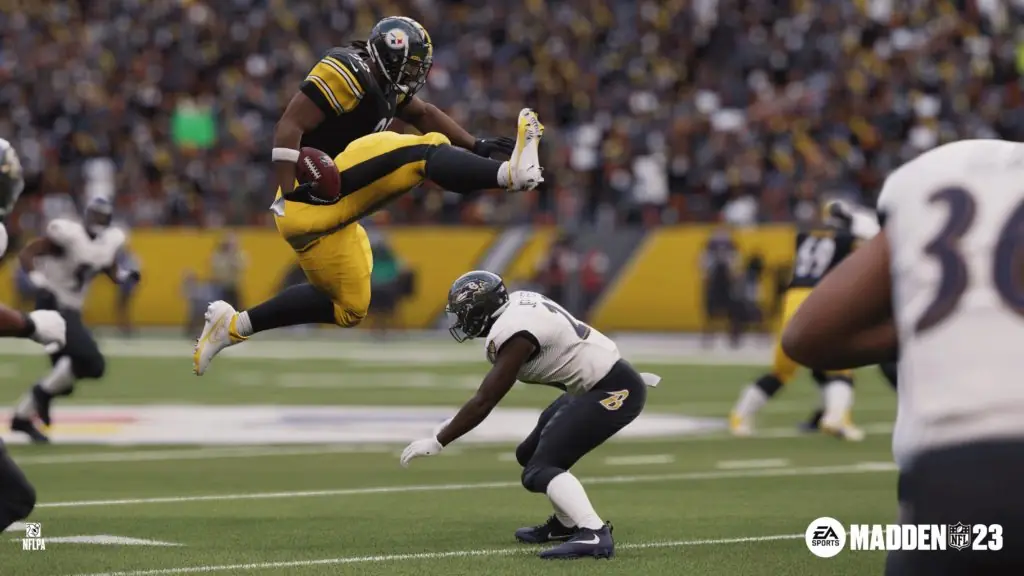 The changing of the season brings shorter and cooler days, but most importantly, Madden 23. Similar to other popular sports titles like NBA 2K and FIFA, Madden 23 features a MyCareer-esque game mode called Face of the Franchise. In which you can create your very own player and develop them into an NFL superstar. And one of the new features this year is physique, which provides a solid base for how your created player will look and play.
This guide breaks down how to change your physique in Face of the Franchise.
One of the first elements you get to customize in Madden 23´s Face of the Franchise is your player's physique. Regardless of what position you play, your options will be Agile, Balanced, and Bruiser. Each physique will affect your OVR and skill ratings in different ways.
Related: How to Get a 99 OVR in Madden 23 Face of the Franchise
The Agile physique lands you at 5'8″, 180 pounds with a Silver in Catching, Juke, and Spin moves as well as a Gold in Man Coverage. This prototype also gives players higher Speed, Strength, and Tackle ratings, depending on their position. As a result, this physique is best for WRs, CBs, and mobile QBs.
The Balanced physique creates a solid all-around athlete who's 6'2″ in height and 215 lbs in weight. The perks include a Bronze in Trucking and Spin moves, while your key skills will be average in all aspects. As a result, this physique is good for just about any position.
Lastly, there's the Bruiser physique, which gives your player a massive 6'5″, 310-pound frame. On top of this, they will also receive a Silver in Man Coverage and a Gold in Press. This physique emphasizes size and strength mightily, so, it's generally reserved for offensive and defensive linemen.
With these being your only three options in Face of the Franchise, there may come a time when you want to switch things up a little bit. Maybe add on some extra weight as a running back to bully your opponent, or gain a slight speed advantage flying around the field as a free safety. Regardless, there is a way to change your physique later on in the game.
To change your physique in Madden 23, you simply need to go to the main screen of Face of the Franchise and select "Upgrade Player". This will send you to the skills point allocation screen, where you can find the option to change your player's physique located below your player's attributes. Simply press the button and you can pick again from any of the three options.
That's everything you need to know about how to change your physique in Madden 23 Face of the Franchise. If you're interested in more Madden content, be sure to check out our guides section here at Gamer Journalist. Where you can find information like how to request a trade in Madden 23 Face of the Franchise or how to set realistic game sliders in Madden 23.