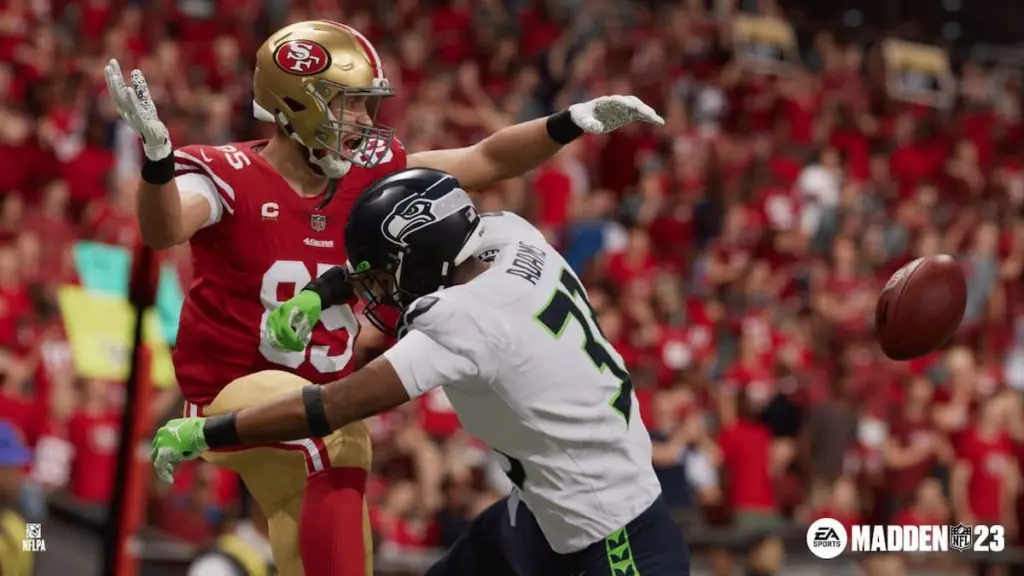 As a quarterback in Madden NFL 23, you're required to get the ball our of your hands and to a receiver in a timely and efficient manner. However, this can be quite difficult when you've got 6'6", 240-pound edge rushers flying around trying to take your head off.
When you're attempting to evade the defense, there will likely be situations that require you to tuck the ball and run past the line of scrimmage to pick up some extra yards. However, instead of putting your body (and the potential success of the team) in jeopardy by running straight through a defender. You can slide and safely finish the play.
In this guide, we're going to go over everything you need to know about how to slide in Madden NFL 23.
How to slide in Madden NFL 23
It's worth noting that outside of maybe the Buffalo Bills' Josh Allen, modern quarterbacks aren't built to handle large amounts of contact. Over time, taking on too much punishment can be detrimental to the future of an NFL quarterback, even in Madden NFL 23.
Related: Madden NFL 23 Passing Guide – How to throw all passes in Madden
Instead of putting your QB through this, you can slide to get down quickly and safely. Completely avoiding any potential injuries or loss of the possession. Thankfully, it's not too difficult to slide in Madden NFL 23 either. In fact, all you need to do is tap square (for PlayStation) or A (for Xbox).
Keep in mind that this will send your player diving straight ahead through the air. So, it's best to perform the slide when you've got the room to do so. If you activate it too late with a defender rushing in towards you, this leaves you wide open for a big hit and potential fumble of the football.
Knowing how and when to slide in Madden NFL 23 isn't just a great way to keep your quarterback protected but it's also a fantastic way manage the game as well. Since you can slide late in the game to keep the ball inbounds and the clock running. Assuming you're ahead in the game and need to drain out the remaining seconds to clinch a victory.
That's everything you need to know about how to slide in Madden NFL 23. Before you go, be sure to check out some of our other Madden NFL 23 content here at Gamer Journalist. Like the fastest NFL players in Madden 23 or how to play Madden NFL 23 early.