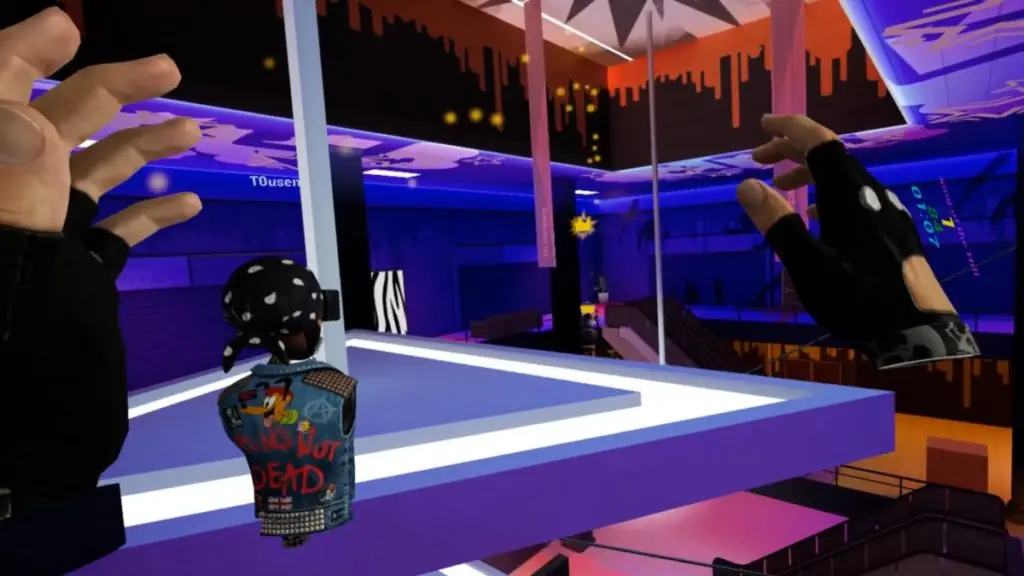 The parkour VR sensation, Stride has made quite a name for itself since its August 2021 release. Bringing a lot of elements of what fans loved from EA's Mirror's Edge series, Stride manages to carve its own path through its exciting free-running gameplay set in VR. With the recent release of its Multiplayer update, Stride is even better than ever. So let's explain how to play multiplayer on Stride.
When booting up the game, you'll now notice that there's a big reddish-colored button that says " Multiplayer". All you have to do is lift your hand, point, and click it. From there, you're transported to a new multiplayer hub world where you can practice your free-running, hang out with other players, or change up your in-game avatar.
What's cool about character customization is that it's extremely easy and free. All you have to do is head to the store, choose your outfit, and run off. It's that easy. If you manage to create a bond with another player, all you have to do is give each other a fist bump to become friends. It's really easy to do as long as your virtual fists make contact.
When it comes to actually play the multiplayer modes, there are currently just 2 to choose from. Each has its own rotation of maps, all of which are really exciting to traverse and perfectly built for each of the modes. Though both modes are pretty similar, there's a specific goal to each that truly distinguishes one from the other and makes gameplay feel different.
Luckily, the gameplay itself hasn't changed when coming from single-player over to multiplayer. This means that everything you already learned in the tutorial when starting the game comes over seamlessly.
Horde
Horde mode is a VR take on the classic zombie tag children's game. One or two players start out as infected and must tag every survivor before the game's timer is up. If there's even a single survivor left by the end of the timer, they win and the infected lose. It's a very fun game, especially if you're one of the last survivors. The infected make zombie noises and it really makes your heart pump as if real undead are chasing you through these open courses. If you're infected, all you have to do is tag a survivor to change them.
King of the Hill
As for King of the Hill, it's whoever holds the crown the longest that wins. Each player is tasked with knabbing the crown from the player currently wearing it and holding it for as long as they can whilst ducking and dodging the other competitors. Something really cool about this mode is that if you can't seem to find the current player wearing the crown, you have an arrow in the palm of your hand that points directly to them. Once you do find them, you have to collide with them in order to steal the crown for yourself.
Though Stride's multiplayer is new, there's so much room for growth with the innovation in its multiplayer modes. Though both of its current modes are really fun already, and now you know how to play them. That's all we've got right now when it comes to how to play multiplayer on Stride.
Related: Sony Gives a First Look at the PlayStation VR2 Headset