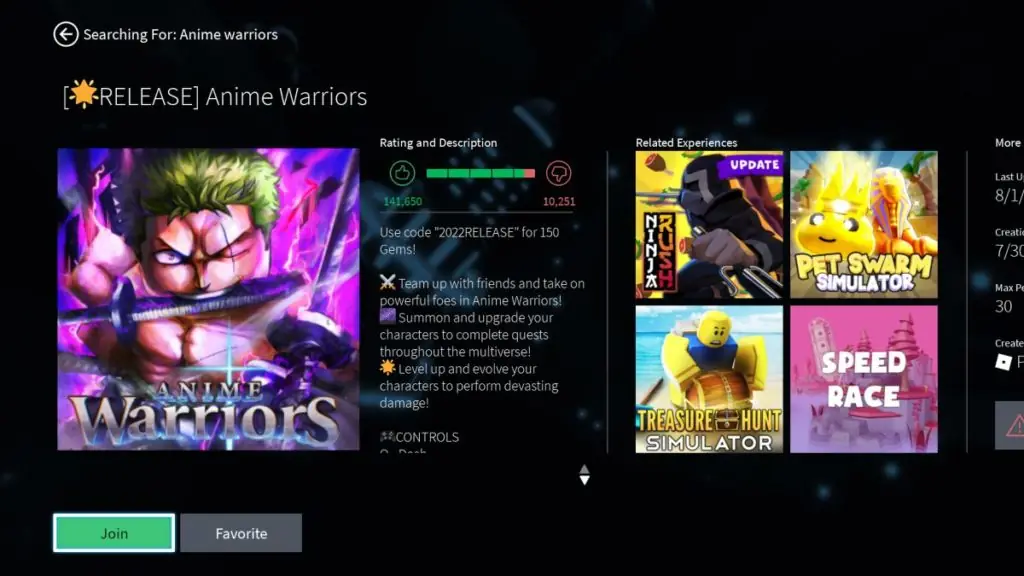 Roblox's ever-growing list of Anime servers can please any kind of fan of the entertainment medium. Anime Warriors is one such game set within Roxblox and offers players a unique style of gatcha gameplay that sets itself apart from the rest within the platform. And of course, just like with any of the other Anime games set within Roblox, there are a ton of various characters to earn and/or buy as you play.
Amongst the characters is the newly-introduced Madara Uchiha from the Naruto anime. A highly-coveted character due to his impressive 6-star stats, he's the current best character to play for high DPS. Let's explain how to get him so that you can start earning as much DPS as possible.
How to get Madara in Roblox Anime Warriors
Though most characters within Anime Warriors can be unlocked for players after having successfully summoned them with banners, Madara is a unique case. He can only be unlocked after you've successfully purchased the Season 1 Battle pass.
Here's what you'll need to do in order to purchase the Season 1 Battle pass.
Open Anime Warriors from within Roblox.
Click the Battlepass icon on the bottom left-hand side of your screen.
Purchase the Kami Pass for 799 Robux.
If you don't currently have any Robux, when you click to purchase the Kami Pass, it'll prompt you to buy 800 Robux which costs $10.
After buying the pass, you will be granted access to Madara automatically.
There is no need to level up or progress through the Battlepass's many tiers to play as him.
Madara will be added to your inventory from there.
Can You Unlock Madara for Free?
Unfortunately, Madara can only be unlocked by purchasing the Kami Pass. It's a sad thing for players that don't want to spend money on the game, but that's part of the perks of being a heavily invested player. Additionally, unlike games such as Fortnite or Warzone, there isn't a way to earn Robux in the free Battle pass. Though all players can unlock an essence of Marara through the Madera Emote which can be obtained for free at tier level 48. So there's at least some kind of constellation prize for all players.
That's all there is to unlocking Madara in Anime Warriors. Though it isn't a long process by any means, it is one that is going to cost you $10 to achieve. Luckily for you though, Madara is one of, if not the best playable character in-game currently, making that $10 worth it.
Related: Anime Warriors Characters List