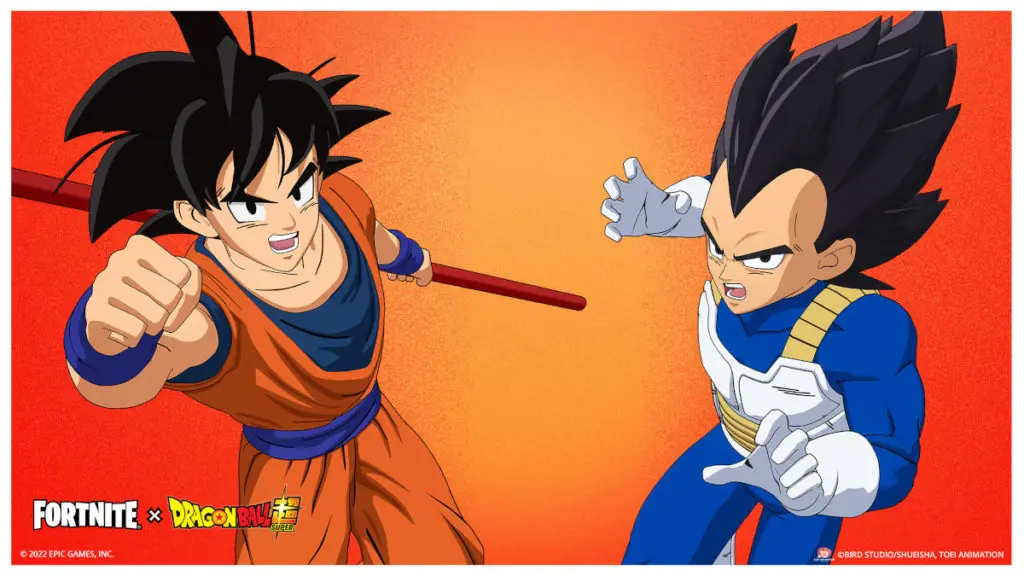 It's true what they say: you either die already a member of the Smash roster, or you live long enough to be invited to Fortnite. Son Goku, the iconic protagonist of the Dragon Ball franchise, is dropping into the Fortnite Island, and he's bringing some friends. Vegeta, Bulma and God of Destruction Beerus will also be present for this Spirit Bomb of a collaboration. Here's how to get each of the new Fortnite skins.
How to Unlock Goku, Vegeta, Bulma & Beerus Skins
I wish I could tell you there was an in-game method to unlocking these skins. I wish I could tell you that. But, as with most Fortnite collaborations, the best (and only) way to play as these quintessential anime characters … is to buy them in the Fortnite Item Shop. It would appear that you can purchase characters individually, or in two-character bundles. Goku and Beerus have a bundle, as well as Vegeta and Bulma.
The Goku and Beerus bundle comes with the following items and costs 2,700 V-Bucks.
Son Goku (Skin)
Power Pole (Back Bling)
Power Pole (Pickaxe)
Beerus (Skin)
The Seer Fish (Back Bling)
Power Unleashed (Loading Screen)
Goku's Charging Up (Emote)
The Vegeta and Bulma bundle comes with the following items and costs 2,300 V-Bucks.
Vegeta (Skin)
Bulma (Skin)
Vegeta's Charging Up (Emote)
There's also a Dragon Ball Gear Bundle that costs 1,800 V-Bucks and comes with the following items:
Nimbus Cloud (Glider)
Space Pod (Glider)
Kemesennin's Shell (Back Bling)
Kamesennin's Staff (Pickaxe)
Fusion! Hah!! (Emote)
Or, if you'd prefer to buy them individually, Son Goku can be purchased for 2,000 V-Bucks, Beerus for 1,500, Vegeta for 1,800, and Bulma for 1,200 V-Bucks. There are several other themed inclusions, such as a series of quests to earn the Shenron glider and Versus Boards to test your skills against an opponent. You can also visit the iconic Kame House off the coast of the Fortnite Island, where you'll find Bulma. Sacrifice some of your bars and she'll offer some powerful items to give you a leg-up on the competition.
Related: How To Get the Fortnite Llama Skin
Also, from August 16 to September 17, anime fans can board an in-game cruise ship and chill out whilst watching episodes of Dragon Ball Super! In any case, it looks to be an explosive summer celebration on the Fortnite Island! Stick with Gamer Journalist for more on this event as it progresses.