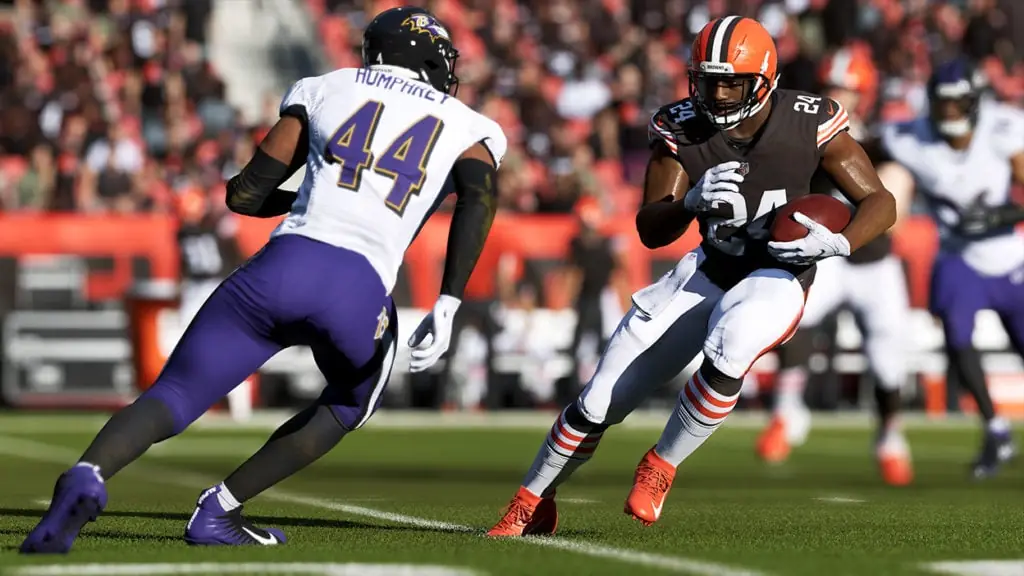 It's no secret that a team's success in Madden NFL 23 revolves heavily around their ability to put points up through the air. And with young superstar QBs like Patrick Mahomes, Lamar Jackson, Josh Allen and Joe Burrow set to lead the league into the next decade, I don't think this will change anytime soon.
Despite it being such a pass-dominant league, knowing how to stop the run remains one of the most valuable skills in football. So, in this guide, we're going to break down everything you need to know about how to stop the run in Madden NFL 23.
Knowing how to stop the run in Madden NFL 23 might seem intuitive but it actually takes a lot of skill and a high football IQ. There's also nothing more defeating that letting your opponent run all over you, which is what makes defending the run such a vital part of the game.
Outside of obtaining elite defensive players and boosting your team's rating on that side of the field. There are some additional things you can try to strengthen your defense in the run department.
Here are three proven tricks to help stop the run in Madden NFL 23:
1) Know what a running play looks like
One of the best things you can do to stop the run in Madden NFL 23 is be aware of what a running play play will look like. Typically, when a team is about to run the ball, they will load up with tight ends (TE) and have fewer wide receivers (WR) on the field. Alternatively, they might bring out their fullback (FB) as an extra blocker.
So, any time you see that there are two or three TEs on either side of the offensive line, only one or two WRs lined up on the outside or a FB sitting behind the quarterback. These are pretty good indications that a run is coming.
Knowing when a run is coming before it happens gives you time to audible and change your own formation at the last second. Which not only better prepares you for the play ahead but it could also catch your opponent off-guard and potentially cause a fumble or pivotal tackle for loss.
Related: How to Slide in Madden NFL 23
2) Utilize the proper formations
Another fantastic way to stop the run in Madden NFL 23 is to know how and when to implement certain formations or strategies. Generally speaking, the safest defensive formation is the 4-4 split with four linebackers and four defensive linemen along with some sort of blitz play. With a set of run stoppers, edge rushers and athletic pass-protectors, you'll have a balanced lineup capable of stopping any style of run.
Similarly, most Madden players have a favorite side that they prefer to run the ball to. Once you find out which side that is, you can load up some extra defenders on that side of the field or take control of one of the linebackers to fill the gaps. Stopping your opponent in their tracks.
That being said, you want to be careful not to completely show your cards and call an all-out blitz. Since even the average player can sense that a blitz is coming and call an audible to catch you off-guard.
3) Prioritize key positions and attributes
Lastly, you should know which positions and attributes need to be prioritized above others in Madden NFL 23. Obviously, you want to have a balanced defense, which means having players who can defend the pass as well as the run. However, if you find that your team is struggling against opposing running backs and quarterbacks more than they are against wide receivers and tight ends, then it could be time to switch things up a little bit.
Specifically, look for players with high ratings in categories like tackling (TAK), speed (SPD), strength (STR), awareness (AWR), play recognition (PRC) and pursuit (PUR). This way they can recognize the play early and make the necessary tackle at the opportune moment.
Also, if you're planning on blitzing a lot, you should look for players with high attributes in block shedding (BSH), finesse moves (FMV) and power moves (PMV). Which will help them sneak right by the offensive line and in for a massive tackle for loss.
That's everything you need to know about how to stop the run in Madden NFL 23. Before you go, be sure to check out some of our other Madden NFL 23 content here at Gamer Journalist. Like how to throw all passes in Madden 23 or the best teams to use in Madden 23's franchise mode.