There's nothing worse than getting carved up in the middle of the field…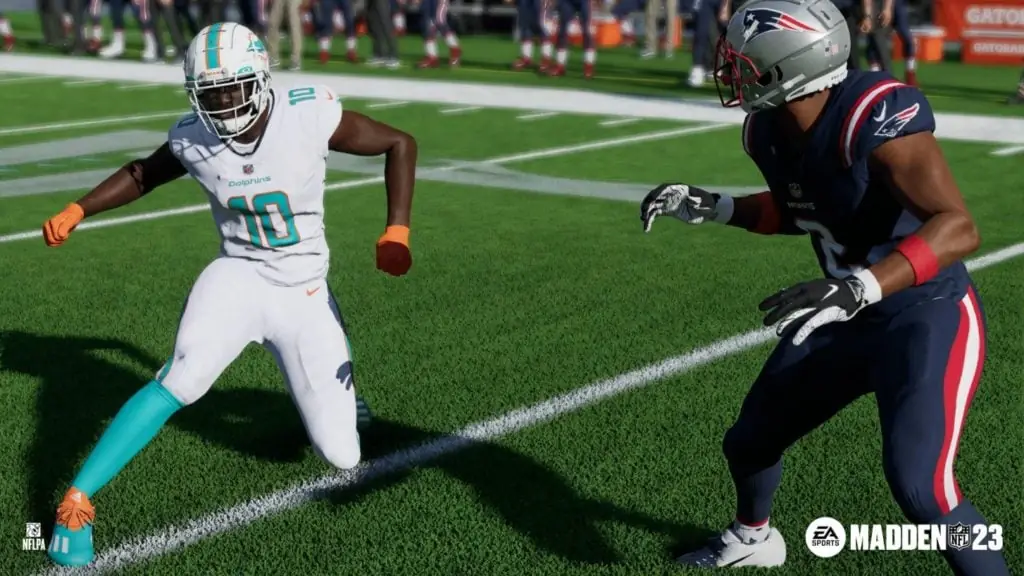 There's nothing more demoralizing in Madden 23 than watching your opponent move up and down the field with short passes. While allowing them to thrive in the deep or intermediate game isn't ideal either, there's nothing worse than watching them pick up 5 to 10-yard gains at will.
In this guide, we will break down everything you need to know about how to stop short passes in Madden 23.
In Madden 23, it's not unusual to be a whole lot better on offense than you are on defense. Although, it can be pretty frustrating not being able to prevent the other team from advancing the ball. Watching them carve up your defense with short throws underneath between zone coverages with slant or drag routes.
Related: How to Dive in Madden 23
To stop short passes in Madden 23, here are 5 things you can do;
Shade underneath – Shading your defense pre-snap provides the CPU-controlled defenders with more instructions on how to cover certain receivers. Which allows them to anticipate quick short passes and play tight coverage close to the line of scrimmage. To activate this feature, you will need to press Y (for Xbox) or Triangle (for PlayStation) and then push the right stick down prior to the snap. Since this will leave you open for long passes over the middle, it shouldn't be used on 3rd and long plays or when you think the offense will air the ball out.
User-control the MLB – When it comes to defending short passes in Madden 23, the middle linebacker (MLB) arguably plays the most crucial position. So, you should always be controlling this position when trying to cover the short pass game. As you'll be able to reliably cover in zone or man-to-man against the tight end or running back.
Play the right defense – Another key element in stopping short passes in Madden 23 is using the right type of defense. To defend the short pass game, you should almost always use man-to-man defense, particularly in a cover 2 scheme. Most importantly, you'll want a playbook that deploys good blitzes and has plays you are comfortable with.
Have the right players – This one might seem obvious but probably the most important factor to consider. Ideally, you'll want quality players with high ratings in play recognition, awareness, man coverage, and speed. Especially if you want to stop the short pass game. Your corners should be able to match the receiver opposite them. While your safeties and linebackers need to be able to react quickly with the ball in the air.
Practice! – As the saying goes, "practice makes perfect", this is another incredibly important step in the process. If you're new to the game, you can stick to the training game mode until you've learned the basics. Although, mastering the defense remains a vital piece of the puzzle for every level of player. Simply put, the more you play, the better you'll be.
That's everything you need to know about how to stop short passes in Madden 23. If you're interested in more Madden content, be sure to check out our guides section here at Gamer Journalist. Where you can find information like the best offensive cards in Madden 23 Ultimate Team or how to scout in Madden 23 Franchise mode.