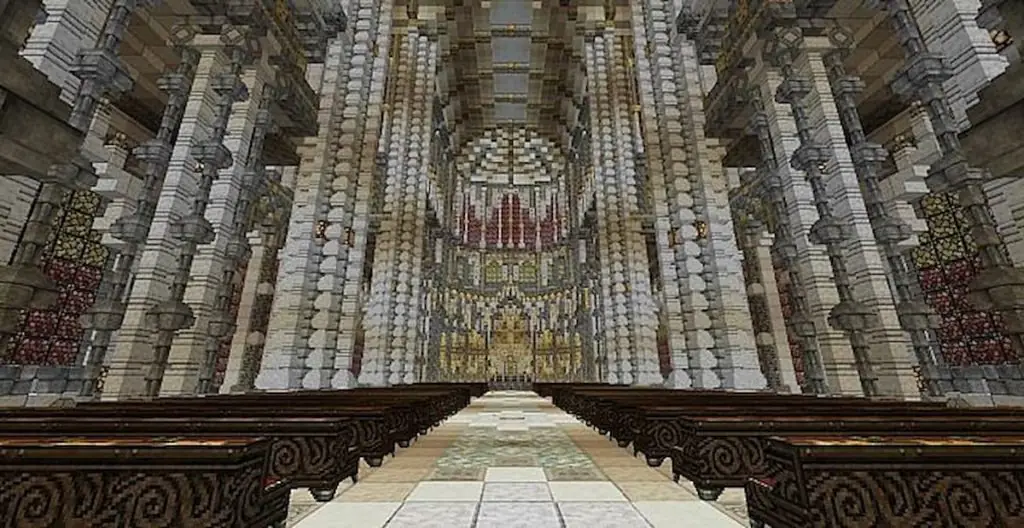 What separates Minecraft from other video games is that you can create anything that you can conjure up in your head. Meaning that those with a strong a imagination and a creative mind tend to thrive.
While there are countless structures that deserve attention, churches are one of the more exciting creations in Minecraft. Sure, building one from scratch will take some time and effort, but the finished product is incredibly rewarding. The hard part is coming up with ideas to get you started.
Luckily, we've got you covered.
Here are the top five church ideas in Minecraft.
#5 – Wild West Church
We'll kick things off with an iconic structure, the Wild West Church. Let's be honest, there's nothing more American than a church that's themed around the Wild West. A frontier period in U.S. history characterized by roughness and lawlessness.
What makes this style of church stand out is that they're visually appealing yet relatively small and simple by design. Meaning that they're likely going to be far easier to build than a few other churches on our list. For a Wild West church, you'll want to focus on building blocks like spruce, oak wood planks, cobblestones and spruce wood stairs.
#4 – Basilica
The Basilica is an older type of church that's typically found in Europe. The word "Basilica" is derived from a Greek term meaning the "royal house". Today, there are four major Basilicas and they are all located in Rome, Italy. Those are the St. John Lateran, St. Peter, St. Paul Outside the Walls and St. Mary Major.
Not only is it an incredibly historic style of church, but they're also extraordinarily fun to create in Minecraft. Typically built alongside the town's forum, basilicas are highlighted by their central nave with an apse on one or both ends and two side aisles formed by rows or columns. They're incredibly detailed and serve multiple functions, but certainly one of the more creative Minecraft church ideas.
Related: The Best Five Minecraft Bed Designs
#3 – Greek Orthodox Temple
Everybody knows that Greek architecture has led to some of the most impressive structures from around the globe. Not the least of which includes Greek Orthodox Temples. While still a place of worship, these churches carry different practices than Catholicism, such as the veneration of saints. Even though they're typically not as large and don't cover as much space as other church designs on our list. They're equally as impressive and detailed.
In Minecraft, building a Greek Orthodox Temple wouldn't just look stunning placed outside of your home, offering a majestic exterior view. But they probably wouldn't take as much time to build compared to a few other church structures on our list either. Plus, you can then create an entire Greek village, recreating famous structures like The Temple of Hephaestus, The Parthenon, or The Great Theater Of Epidaurus.
#2 – Cathedral
A cathedral is a church building that houses the local bishop and is the center of Christian worship. Think of the pope's cathedral in Rome, the Archbasilica Cathedral of the Most Holy Savior and of Saints John the Baptist and John the Evangelist In the Lateran. Or the exceptionally extravagant Saint Basil's Cathedral in Moscow, Russia.
Cathedral's are extremely detailed structures, and can generally be seen from a mile away. In small villages, they're typically in the center of the town and in large cities, their spires and domes sky over every building in sight. So, you will need to pay attention to every tiny detail when you're building one from scratch. Nevertheless, they're one of the more rewarding churches to build in Minecraft.
#1 – Classic Medieval Church
One of the absolute best styles of churches you can build in Minecraft is the classic Medieval Church. They're ancient, historic and absolutely massive. The religious system was at it's peak during the medieval times, and as a result, some of the most mesmerizing church structures were built between the 5th century to the 15th century (400s to 1400s).
These incredible structures signify glory and strength. So, in Minecraft, you'll want to focus on building blocks like cobblestones, cobblestone stairs, oak fences, spruce wood stairs, iron bars and other similar materials. Once built, a classic Medieval Church would offer a unique experience that makes you feel like you just hoped in a time machine and travelled back 500 years.
That concludes our list of the top 5 Minecraft church ideas. Before you go, don't forget to check out some of our other Minecraft content here at Gamer Journalist. Like how to install Data Packs in the Minecraft Java 1.19 update or the top eight easy Minecraft house ideas and designs.