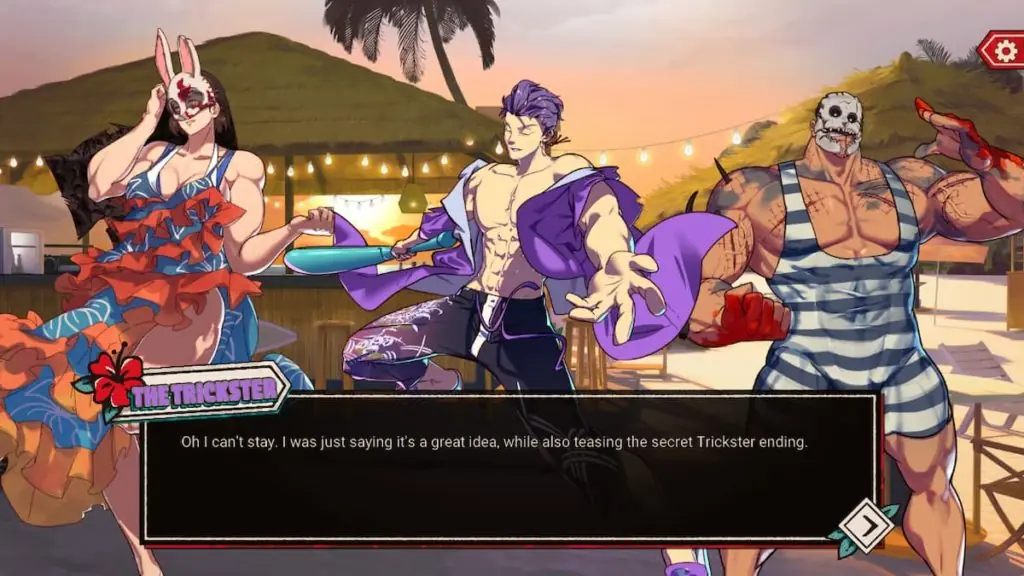 Hooked on You is a hilarious dating sim that loosely ties into the story and lore behind Dead by Daylight. No one on the planet explicitly asked for this game, but it was bestowed upon the world anyways so you might as well enjoy it! There are eight endings in total (nine endings if you count the Completionist Ending), with only half of them being good ones (although, when dating serial killers, is any ending really "good"?). Each of the four dateable killers, Wraith, Huntress, Trapper, and Spirit, has 2 endings. The only undateable character that has their own ending is Trickster, though his ending is incredibly difficult and convoluted to get. Thankfully, you don't have to play for hours upon hours, wondering how to get this secret ending! This is a guide on how to get the secret Trickster ending in Hooked on You.
The secret Trickster ending is teased throughout the game, but you aren't given any hints on how to achieve it. You can only keep playing the game over and over and over again, desperately hoping to somehow get this elusive secret ending; which, apparently, was the point. The Trickster ending in Hooked on You can only be obtained after you've already gotten all other eight endings (all four bad endings and all four good endings). Once you've gotten all other endings, you'll finally be able to actually interact with Trickster and obtain the Trickster ending in Hooked on You. Although, it really isn't much of an "ending"; it's more of a bonus conversation/achievement involving the most obnoxious character (besides Trapper) in the game.
Contrary to Trickster's teasing throughout the game, you don't actually get to date him or unlock his secret route; Trickster doesn't have a route, and his "ending" results in nothing more than another odd conversation with him and a free collectible item. During Trickster's ending scene, he will get your hopes up by telling you that you've "earned him" and that you can finally have him "all to your dirty little self". After he tells you this, however, he merely presents you with an admittedly adorable keychain of himself, instead of a secret, saucy exclusive Trickster scene (like we were all hoping for). The game then rubs your nose in it by saying "What? Did you really think we'd tuck a whole other plotline beneath the most difficult achievement in the entire game?"
Related: Can You Date Dwight and Claudette in Hooked on You: A Dead by Daylight Dating Sim?
Although you can't date this murderous, sexy morsel, you at least get to have a conversation with him, instead of just standing there in shock while he rambles at you and then dramatically makes an obnoxious exit (and leaves you wondering how the hell you're supposed to figure out how to get his ending). Trickster may be an arrogant, self-centered jerk, but he's also an arrogant, self-centered jerk with abs. Who wouldn't want to get more screen time of him? You also get to obtain one of the most difficult achievements in Hooked on You, which is always something to feel good about in any game. So although the Trickster ending in Hooked on You isn't what most people were expecting, it's still worth going getting through all the game's endings to get, for that adorable key chain if nothing else!