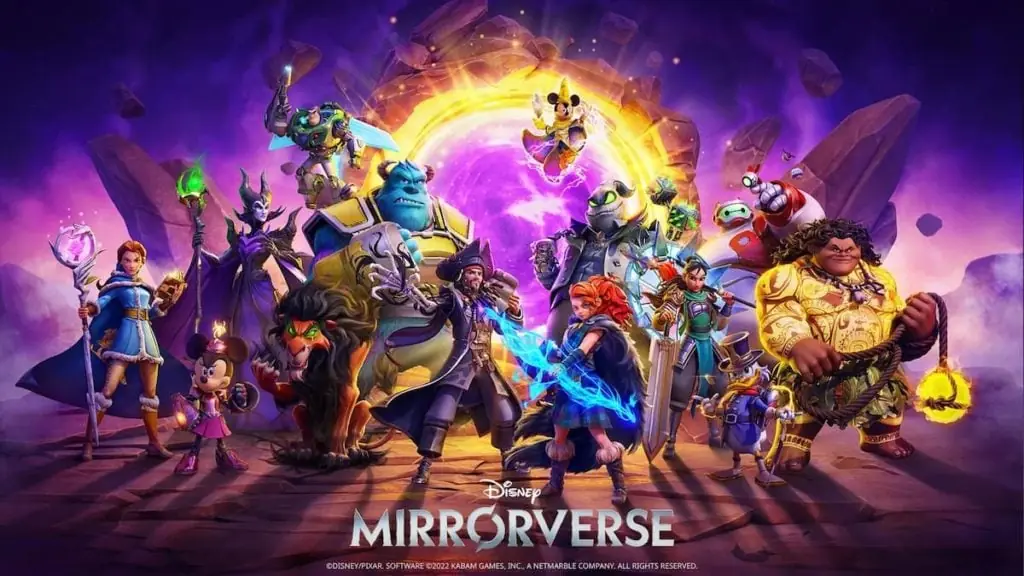 The player opens into a world unlike any they've ever known in Disney's Mirrorverse. Yes, there are familiar faces and places, such as Rapunzel in the forest outside of the kingdom of Corona. But! In this world who we know as Heroes and Villains must work together as Guardians under the guidance of Stellar Sorcerer Mickey Mouse to fight against the Fractureds. Players get to build teams of beloved Disney and Pixar characters and fight against this ominous and unyielding threat. Here is a quick and helpful Beginner's Guide for Disney's Mirrorverse
Disney's Mirrorverse Beginner's Guide: Tips & Tricks For Beginners
Understanding Guardian Roles And Unlocking Teams
When the game originally launched, there were 45 Guardians. Since then, 2 more have been added, and Disney has said that with new events and game updates the roaster will keep expanding. Here is How To Unlock Them All, and here are our Top 12 Best Characters so far. There are 4 types of Guardians divided by the 4 roles:
1st is Tank, which is labeled by the color blue and the symbol of the shield.
2nd is Mele, which is labeled by the color red and the symbol of the swords.
3rd is Ranged, which is labeled by the color gold and the symbol of the bow and arrow.
4th is Support, which is labeled by the color green and the symbol of the star.
Here are the tricks for picking Guardians and building a team:
For a Tank, look for a high Defense, like 10477 with Oogie Boogie.
For a Mele, look for a high Attack, like 6770 with Stitch.
For a Ranged, look for a high Attack, like 6462 with Zurg.
For a Support, look for a high Healing, like Healing Bloom with Belle.
Then, it's up to you and your gameplay who your Leader is. If you rather play a hand-to-hand combat character, then you're looking for a Tank or Mele. But if you rather play at a distance, that would be a Ranged or Support. For example:
Tank – Mr. Incredible punches things.
Mele – Anger uses a sword.
Range – Merida uses a bow and arrow across the field.
Support – Belle uses magic from the Enchanted Rose to mostly heal.
Your teammates will do basic attacks on their own. But, just as you will have to manually press a button to do Special Abilities for the Leader, you will have to press a button to use the Special Abilities for your teammates. Tip: Always have one Support character in your team that can heal you as you go.
Guardian Abilities, Talents, Upgrades, Ranks, And Building Teams
So! Now that you know the Disney and Pixar characters and the basics of what makes them the Guardians of the Mirrorverse, let's dive a little deeper into their individual strengths and qualities and why they can be tiered at all. On the main page of the game, you'll be able to click on the Guardian logo, which will bring you to the full list – not just the ones you have, but all of them released.
The ones you have unlocked will be full color and you can edit the filters to have them ordered by locked or unlocked, their roles, or by level, rank, power, name, or tier. Once you click on an unlocked Guardian it will give you the full overview. This will give you their name, their Mirrorverse title, their Star level (which can be increased and Here Is How), their level and rank, and their attributes – health and attack and defense and focus scale. It is because of their max health, max attack, max defense, and max, focus that these Guardians can be tiered individually in their role. But, it might be worth taking into consideration their Abilities and Talents and how they fit into your team before you decide who to keep, use, and upgrade.
Their Abilities and Talents will be various things that will be unlocked at various levels. Under the Ability tab, you can look up their Core Ability, Special Ability, and Signature Ability. Under the Talent tab, you can look up all of the Talents that will become available. Tip: Remember once you reach level 12, 18, and 25, go into your Guardian screen and click the available Talent slot to manually equip the new Talent. There are a lot of Abilities and Talents that are based on the other Guardians in your team (and their Abilities and Talents), so be thoughtful when building a team.
Additionally, you can upgrade any unlocked Guardian. To do so, you go into their overview. Under their name, title, Star level, and role will be their level bar. On the right is the Upgrade button. The "Level Up" screen will appear and it will show you what is required to level up your Guardian. And every ten levels, you will be able to raise their rank as well.
Crystals And How To Use Them
The most important Crystals are those that you throw into the Stellar Mirror and will give you Guardians. Even if you get a repeat Guardian, that's all good, because that can build their Star level. One of the biggest reasons you want a high Star level is because a Guardian's Signature Ability isn't unlocked until 4 Stars. Here is the list of Crystals that will give you Guardians:
Glowing Crystals will give you a Guardian that will range from 1 to 3 Star.
Stellar Crystals will give you a Guardian that will range from 2 to 5 Star.
Radiant Crystal will give you a Guardian that will be 3 Stars.
Brillant Crystals will give you a Guardian that will be 4 Stars.
Astral Crystals will give you a Guardian that will range from 3 to 5 Star.
Tip: Crystal Shards can be gathered and saved to be spent on Stellar or Brillant Crystals. You can also get Crystals from gameplay, the calenders (described in the next section), buying with Orbs, buying with real money, the Bazaar, Events, Dungeons, and crafting. The only issue with crafting Crystals is that there is a chance they will give you Energy Recharge or Orbs instead.
Calendars And Their Rewards
Tip: Even if you don't plan to play that day, make sure to log in and collect from the Calendars! Calendar examples, with their lengths, rewarding new items each day:
Welcome Calendar – 7 Days, 7 items
VIP Calendar – 14 Days, 14 items
Celebration Calendar – 14 Days, 14 items
Chromastrom Crisis Calendar – 21 Days, 21 items
Monthly Calendar – currently 31 items
The Chromastrom Crisis is a current event and when it ends will be replaced with another event, so on and so forth.
In all of these Calendars not only will you receive various Crystals as listed in the section above, but other Crystals, too, that could provide Energy Recharges, Orbs, or even Gold! In addition, the Calendars themselves are filled with Crystal Shards, Energy Recharges, Orbs, Gold, Books, XP Motes, and Gems.
How To Get Three Star Level Completions
In Story Mode, (which has the options of Normal, Hard, and Expert), you play through chapters, each chapter having 10 levels. Each level has the ability to achieve a 3 Star reward. How do you get 3 out of 3 Stars? You have to complete all 3 Objectives.
When you get into the chapter screen and you click on the level, 3-5 for example, the Objectives will appear on the right. To earn 1 Star for 3-5, you must complete the encounter. To earn 2 Stars for 3-5, you must complete the encounter and have at least 2 Guardians remaining. To earn 3 Sars for 3-5, you must complete the encounter with all 3 Guardians remaining.
Tip: On this side panel that shows the level Objectives, under the sword icon there is an evil face icon. When you tap on the evil face, this will show you the Possible Enemies and this will help you build a better team.
Supply Runs, Tower, Dungeons, And Events
Supply Runs are daily challenges that offer Role Training, Gem Gathering, and Gold Mining. This is a great way to collect the supplies you may need to Level or Rank Up your favorite Guardians. Plus! It gives you great practice and the ability to try out new teams.
The only permanent event is the 1v1 Showdown – here are the Best Characters For 1v1 Showdown. The most important thing about the 1v1 is looking at the Objectives and seeing which Role Guardian you need to earn the 2 Stars. You can also look into the Enemy tab to see which Guardian might be best.
The Tower challenges are a new feature that will also be rotating on various schedules like Events. They will have different requirements, like events and dungeons and 1v1 Showdowns, that will be clearly explained like Objectives. For example, if they want a "Seafaring" Guardian, you can click on the highlighted term and it will show you the list of Captian Hook, Captain Jack Sparrow, Maui, Ariel, Ursula, etc.
Tip: It doesn't matter which Event, Dungeon, Tower, Supply Run, or Level, pay attention to your "Team Power" versus the "Recommended Power" at the top of the screen. This will let you know your likelihood of winning and/or how difficult it will be.
Related: How To Level Up Guardians Quickly