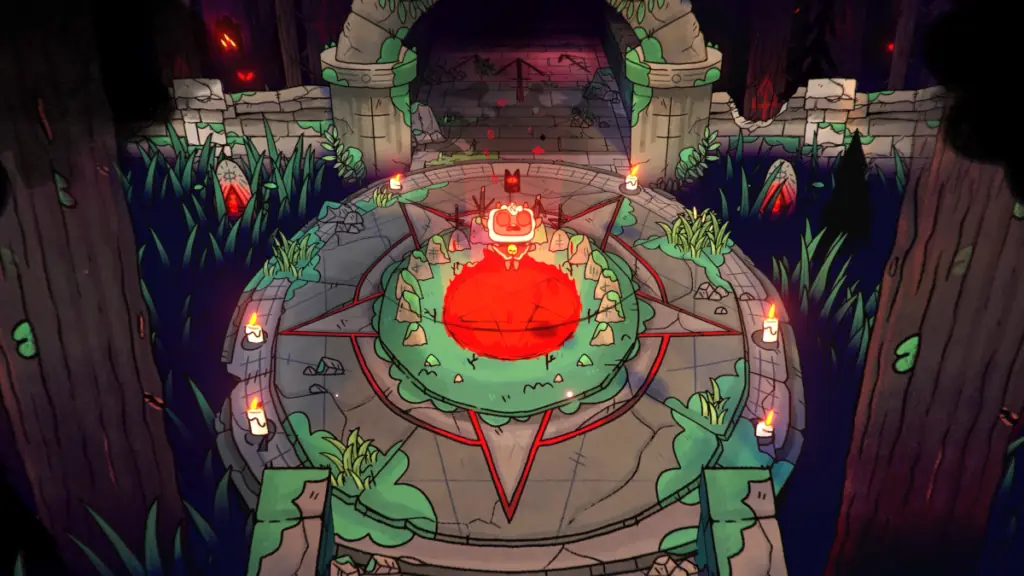 Imagine — you're visiting Pilgrim's Passage in Cult of the Lamb. It's nighttime, and your whole followers have gone to sleep. In all equity, you're right here primarily to catch a lobster, however you're not having a lot luck in that regard. So, you flip to the exit, however … you all of the sudden get a compulsion to stroll down the pier.
It's then that you simply see a brand new interplay: Peer Into the Darkness. What this might be, you haven't a clue. But, towards your greatest curiosity, you determine to work together with it, and a brand new, mysterious character seems.
Related: Cult of the Lamb: 5 Ideas For New Content
This is the start of the most fascinating and missable side-quests within the whole game. It requires the participant to traverse the map and meet with this mysterious, hooded fox at numerous places, all at night time. Here's find out how to accomplish this job — it may be missable, but it surely's not tough by any means.
Peer Into the Darkness
As said, you may provoke this quest by visiting the Pilgrim's Passage pier — at night time. After interacting with the hooded fox, they'll ask for a fish in trade for a Holy Talisman shard. It's greatest to make the trade — in any case, chances are high you're overflowing with fish, so what's one much less going to do?
In the second part of this quest, you'll wish to head for the Spore Grotto. Check the top-left, by the store, and also you'll as soon as once more be given the choice to Peer Into the Darkness. But, this time, the fox isn't glad with taking a single, lonesome fish. No, this time … they need a follower. Ideally, you'll have sufficient followers that giving one as much as this reprehensible Reynard gained't be a enormous loss. Plus, you'll get one more Holy Talisman shard, so … you may determine if it's price it.
Next Stop: Smuggler's Sanctuary. If you wander away to the suitable, you'll encounter an space where the pier juts out only a bit, and also you'll even be given the choice to Peer Into the Darkness. Like within the Spore Grotto, this time the fox calls for a sacrifice of TWO followers. I don't know when you're seeing a sample right here, however I most definitely am. OK — choose two followers to satiate their craving and settle for the Holy Talisman shard.
Finally, you'll wish to head for Midas's Cave. If you thought sacrificing three followers to this dirtbag was dangerous, you ain't seen nothing but. Head for the back-right of the realm and also you'll — as soon as once more — be given the choice to Peer Into the Darkness. In order to complete this quest and declare the fourth Holy Talisman shard, the fox will ask you to sacrifice your mentor and the one who taught you the whole lot you wanted to know: Ratau. It's vital to notice that sacrificing Ratau earlier than you've overwhelmed him in Knucklebones will make it so you may by no means problem him once more — what with him being useless and all. Betray your confidant and also you'll not solely win the fourth Holy Talisman shard, but in addition a brand new follower type.