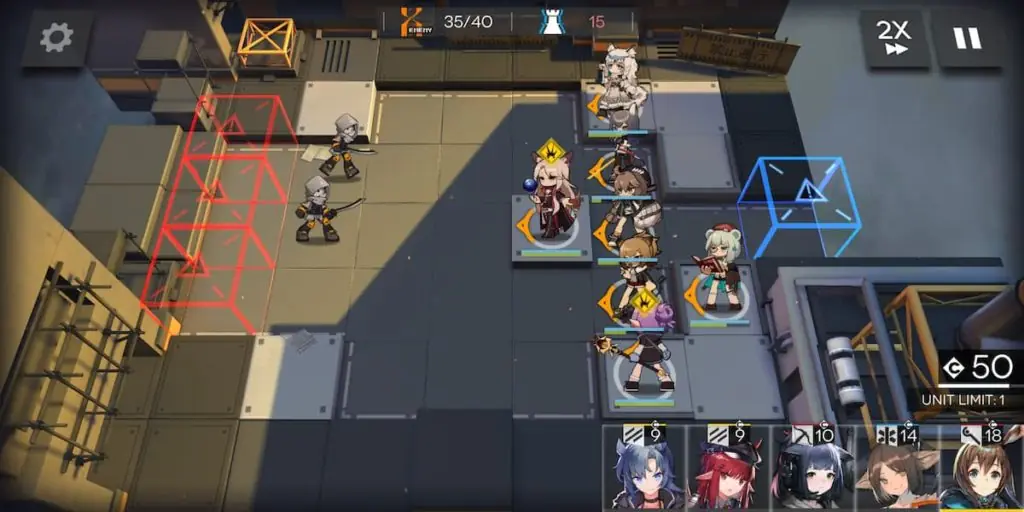 Arknights is a free-to-play fantasy strategy game made for iOS and Android devices. In which players take over as an amnesia Doctor in the fight against a deadly infection that's set to take over the world.
The game features a tower defense-inspired system where players will deploy Operators onto the battlefield in strategic positions to defend certain points on a grid-based map. Since each Operator differs in terms of what skills they can offer and how they can impact the game. It's important to know which are best to recruit to your team.
Here is a tier list for every Operator in Arknights.
Creating a tier list for the Operators in Arknights is an extremely difficult task. Not only are there quite literally hundreds of different Operators in the game but each one serves a different purpose as well. That being said, there are still some Arknights Operators that are more effective than others and will provide you with a better chance of succeeding.
Below is a tier list featuring every operator in Arknights, as well as their respective class. The rankings are based on their overall strength and potential to make a meaningful impact on the game.
Tier S Operators
Archetto (Sniper)
Blaze (Guard)
Blemishine (Defender)
Carnelian (Caster)
Ch'en (Guard)
Elysium (Vanguard)
Exesiai (Sniper)
Gladiia (Specialist)
Hoshiguma (Defender)
Ifrit (Caster)
Kal'tsit (Medic)
Magallan (Support)
Mostima (Caster)
Myrtle (Vanguard)
Nian (Defender)
Projekt Red (Specialist)
Rosmontis (Sniper)
Sarai (Defender)
Shamare (Support)
Siege (Vanguard)
Silence (Medic)
SilverAsh (Guard)
Thorns (Guard)
W (Sniper)
Warfarin (Medic)
Tier A Operators
Aak (Specialist)
Angelina (Support)
Bagpipe (Vanguard)
Ceobe (Caster)
Dusk (Caster)
Eunectes (Defender)
Eyjafjalla (Caster)
Hellagur (Guard)
Lappland (Guard)
Liskarm (Defender)
Meteorite (Sniper)
Mountain (Guard)
Mudrock (Defender)
Phantom (Specialist)
Projekt Red (Specialist)
Rosa (Sniper)
Saga (Vanguard)
Scene (Support)
Schwarz (Sniper)
Shining (Medic)
Skadi (Guard)
Specter (Guard)
Surtr (Guard)
Suzuran (Support)
Weedy (Specialist)
Tier B Operators
Absinthe (Caster)
Andreana (Sniper)
Ash (Sniper)
Ayerscape (Guard)
Bibeak (Guard)
Bison (Defender)
Ceylon (Medic)
Click (Caster)
Croissant (Defender)
FEater (Specialist)
Firewatch (Sniper)
Glaucus (Support)
Gravel (Specialist)
GreyThroat (Sniper)
Mayer (Support)
Mint (Caster)
Nightingale (Medic)
Ptilopsis (Medic)
Skyfire (Caster)
Sora (Support)
Utage (Guard)
Vigna (Vanguard)
Vulcan (Defender)
Waai Fu (Specialist)
Zima (Vanguard)
Related: Warframe Tier List (June 2022)
Tier C Operators
Amiya (Caster)
Asbestos (Defender)
Astesia (Guard)
Beeswax (Caster)
Blue Poison (Sniper)
Broca (Guard)
Cliffheart (Specialist)
Cuora (Defender)
Ethan (Specialist)
Flint (Guard)
Franka (Guard)
Frost (Specialist)
Gitano (Caster)
Kafka (Specialist)
Indra (Guard)
Istina (Support)
Jaye (Specialist)
Leonhardt (Caster)
Manticore (Specialist)
Mizuki (Specialist)
Mr. Nothing (Specialist)
Nearl (Defender)
Perfumer (Medic)
Pinecone (Sniper)
Platinum (Sniper)
Pramanix (Support)
Provence (Sniper)
Reed (Vanguard)
Robin (Specialist)
Skadi the Corrupting Heart (Support)
Texas (Vanguard)
Whislish (Guard)
Whisperain (Medic)
Tier D Operators
Aciddrop (Sniper)
Aosta (Sniper)
Blitz (Defender)
Breeze (Medic)
Chiave (Vanguard)
Cutter (Guard)
Deepcolor (Support)
Dur-Nar (Defender)
Flamebringer (Guard)
Folinic (Medic)
Executor (Sniper)
Grani (Vanguard)
Greyy (Caster)
Haze (Caster)
Heavyrain (Defender)
Jackie (Guard)
Lava the Purgatory (Caster)
Leizi (Caster)
Matterhorn (Defender)
May (Sniper)
Mousse (Guard)
Myrrh (Medic)
Passenger (Caster)
Podenco (Support)
Savage (Guard)
Scavenger (Vanguard)
Sesa (Sniper)
Shaw (Specialist)
Sideroca (Guard)
Snowsant (Specialist)
Sussurro (Medic)
Tsukinogi (Support)
Tuye (Medic)
Vermeil (Sniper)
Tier E Operators
Ambriel (Sniper)
April (Sniper)
Arene (Guard)
Beehunter (Guard)
Bubble (Defender)
Conviction (Guard)
Courier (Vanguard)
Earthspirit (Support)
Estelle (Guard)
Fang (Vanguard)
Frostleaf (Guard)
Gavial (Medic)
Gummy (Defender)
Hibiscus (Medic)
Hung (Defender)
Kroos (Sniper)
Lancet-2 (Medic)
Matoimaru (Guard)
Melantha (Guard)
Meteor (Sniper)
Nightmare (Caster)
Rope (Specialist)
Shirayuki (Sniper)
Skyfire (Caster)
Spot (Defender)
Swire (Guard)
THRM-EX (Specialist)
Toddifons (Sniper)
Tomimi (Caster)
Vanilla (Vanguard)
Tier F Operators
Adnachiel (Sniper)
Ansel (Medic)
Beagle (Defender)
Beanstalk (Vanguard)
Cardigan (Defender)
Castle-3 (Guard)
Catapult (Sniper)
Doberman (Guard)
Durin (Caster)
Jessica (Sniper)
Lava (Caster)
Midnight (Guard)
Noir Corne (Defender)
Orchid (Support)
Plume (Vanguard)
Popukar (Guard)
Rangers (Sniper)
Steward (Caster)
Yato (Vanguard)
12F (Caster)
That concludes our tier list for the best operators in Arknights. Before you leave, be sure to check out some of our other mobile content here at Gamer Journalist. Like some cheats, hints and tips for Woodoku or the best skills and perks for every class in Diablo Immortal.