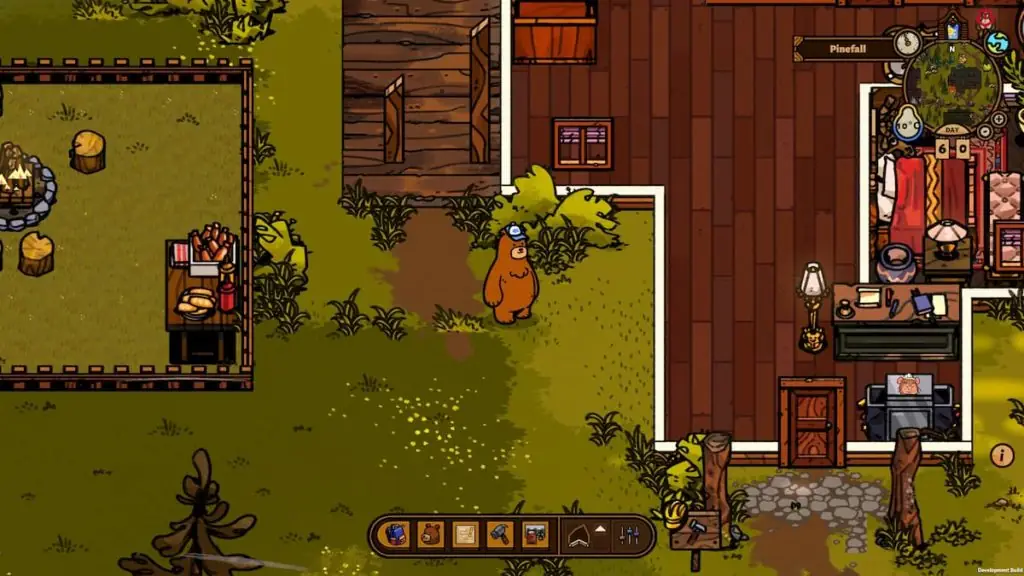 Bear and Breakfast is, hands down, one of the most unique and entertaining management sims to come out in 2022! Trying to dispute this fact would be like trying to dispute the fact that the sun rises every morning and sets every evening. Although this game is undeniably amazing, every game can get stale after a while, even the undeniably amazing ones. If you loved playing Bear and Breakfast but find it getting boring after the tenth playthrough, try playing any one of these ten games like Bear and Breakfast instead!
10 Best Games to Play Like Bear and Breakfast
LumbearJack
LumbearJack is a charming puzzle game that allows you to break as much stuff as you want, with no consequences! In LumbearJack, you get to play as a well-meaning grizzly bear that fights back (with an axe!) against evil corporations trying to pollute the forest.
This game was published by the same group of people who published Bear and Breakfast, so you know it's gonna be good. Either this team of publishers really likes games about bears, or Armor Games Studios just knows talent when it sees it (and talent happens to come in the form of bears). Fight back against climate change and look adorable doing it in LumbearJack!
Garden Paws
Garden Paws is a farming game full of adorable animals, lush landscapes, and numerous customization options, just like Bear and Breakfast! This game, although not a management sim, is just as adorable as Bear and Breakfast, and even lets you play as any animal your little heart desires (instead of only getting to play as a bear).
Garden Paws allows you to run your own productive farm and look adorable while you do it! If you loved getting to explore your bountiful surroundings, decorate to your heart's content, and customize every little thing in Bear and Breakfast, you definitely need to add Garden Paws to your game collection as soon as possible!
Apico
If you like bees, you need to get this game, regardless of whether or not you were a fan of Bear and Breakfast. Like Bear and Breakfast, this game is a laid-back management sim, but instead of managing properties, you're managing bees!
There are few things in life as cute as bumblebees, and this game definitely gets it. Apico is all about collecting, breeding, and conserving the bees. Learning more about floriculture and apiculture has never been so engaging! Apico is the perfect game for aspiring beekeepers, bee conservationists, or if you just really like bees and video games.
Cult of the Lamb
Did you ever play Bear and Breakfast and find yourself wishing there were more blood rituals and cult sacrifices? If so, then you need to get Cult of the Lamb! Cult of the Lamb is an intensely engaging game with a unique protagonist and an even more unique subject matter: you play as a little lamb who runs a demonic cult! Honestly, this game is worth buying even if it wasn't similar to Bear and Breakfast; who wouldn't want to vicariously erect their own cult in the name of a banished god?
As a cult leader, you have to build farms to grow food for your cult, decorate your cult base, and gather food to make delicious meals for your followers, just like Bear and Breakfast (only without the cult stuff)! If you don't mind a little blasphemy and brutal blood sacrifice every now and then, you should definitely consider playing Cult of the Lamb.
Bear Simulator
Did you ever find yourself wishing Bear and Breakfast had a first-person POV mode? Well, now you can finally put that weird wish to rest with Bear Simulator! Bear Simulator is pretty self-explanatory, you get to navigate the wide-open wilderness as a fluffy grizzly bear. This game is as unbearably hilarious as it is surprisingly detailed, getting bored of this game fast is honestly nearly impossible.
This game allows you to finally know what living life as a bear is like, although you don't get to talk to any inflatable sharks or manage rental properties (unfortunately). This game has all the goofiness, calmness, and bear-iness that made Bear and Breakfast such an amazing game!
Cat Cafe Manager
If you've ever wanted to manage a cat cafe in real life but couldn't afford it, try playing Cat Cafe Manager by Roost Games to fill that cat cafe void in your soul! There are few things in this world as enjoyable as cafes and cats, and this game definitely knew what it was doing when it combined them.
This game is actually one of the closest games in style to Bear and Breakfast on this list; you build and manage an establishment, gather ingredients to make food for your customers, hire employees, and even make friends with four-legged woodland creatures! This game is so similar to Bear and Breakfast that it's almost scary, if you liked Bear and Breakfast you should definitely get this game.
Animal Crossing: New Horizons
Animal Crossing is a classic, and each new game that comes out is always ten times better than the last! Animal Crossing: New Horizons is the latest adaptation and is quickly becoming one of the most popular Nintendo Switch games of all time. If you loved the anthropomorphic animals and building aspects of Bear and Breakfast, you should definitely check out Animal Crossing: New Horizons.
This game also (obviously) has numerous customization and decoration features, so if you loved getting to customize your properties down to the last detail in Bear and Breakfast, this game might just be perfect for you. You can build your endearing enterprise up in Animal Crossing just like you did with Bear and Breakfast!
Graveyard Keeper
Graveyard Keeper is like Bear and Breakfast's weird, goth older brother. This game has many of the same aspects of Bear and Breakfast (building and managing properties, foraging for materials, dealing with the generally unsavory public, etc.) but is decidedly much spookier (although not much weirder, oddly enough).
Graveyard Keeper is the self-proclaimed "most inaccurate medieval cemetery sim of the year", and it definitely lives up to that standard. You play as a decent guy who mysteriously gets transported into an alternate world and decides to set up shop as the keeper of a dilapidated graveyard because a talking skull told him to, also because why not. If you liked Bear and Breakfast but wished there was more blatant blasphemy and grave robbing involved, try downloading Graveyard Keeper!
Stardew Valley
Stardew Valley is another classic game that almost needs no introduction. Stardew Valley is an immensely popular game that is as laid-back as it is engaging; you won't find more of an entertaining gaming experience than Stardew Valley. This unproblematic gem of a game is mainly a farming sim, however, so if you (for whatever reason) just aren't into farming games, this game may not be right for you.
Stardew Valley, like Bear and Breakfast, starts you off with almost nothing and expects you to build your business from the ground up. This process may sound difficult, but building your way up from nothing in Stardew Valley is just as easy as it was in Bear and Breakfast. There are numerous other similarities this game has to Bear and Breakfast (you even live in a valley!), but even if these two games weren't so similar, this game would still be worth wasting a few days of your life on.
Don't Starve
Don't Starve is like Bear and Breakfast's weird, hardcore cousin who has an unhealthy obsession with Bear Grylls and only wears My Chemical Romance merch. Although Don't Starve is a survival game, it actually has a lot of similarities to Bear and Breakfast, which may initially come as a shock to some people. In Don't Starve, you must forage the wilderness for food, craft items to help you along your journey, build structures for safety, and there's even a dash of magic added to it all, just like in Bear and Breakfast!
This game may have some similarities to Bear and Breakfast, but it is most assuredly not a laid-back management sim. Don't Starve is a survival game through and through, don't undestimate the hardcore situations this game likes to throw at you. That being said, however, this game is an absolute delight and is worth every penny you spend on it!
Related: Best Games like It Takes Two on Nintendo Switch
Bear and Breakfast is an incredibly well-made game that offers a truly one of a kind gaming experience, but every game can get old after a while. If you find yourself bored on your tenth playthrough of Bear and Breakfast, just try playing any one of these ten games like Bear and Breakfast to lift your spirits!